You don't have to be a bond trader or follow every self-appointed TV expert to keep a studied eye on interest rates. In fact it can be done much more easily by watching a bellwether ETF.
And it's a good time to pay attention. Just recently, the Federal Reserve changed the tone of its stance on rates, indicating that we could see little change into this summer or fall before it dials the rate needle upward.
Once rates do start to inevitably increase, we can use ETFs to profit from the change. But we can also exploit rising rates' effects on the big brokers - one in particular - and employ a simple options technique to maximize our gains. I'll show you how.
How I "Watch" Rates Through ETFs
I regularly watch the iShares Barclays 20+ Year Treasury Bond ETF (NYSE Arca: TLT). This largely mimics the Treasury bond market.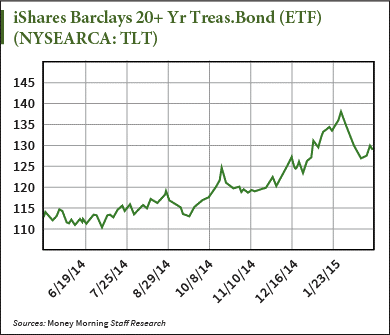 This ETF acts much as a Treasury bond would, in that as interest rates fall or are expected to fall, the price of TLT will rise. If interest rates rise or the market expects monetary policy to tighten, the price of TLT will fall.
Interest rates at historic lows and an expanding economy make me believe that the bullish days for TLT will soon be behind us.
Anyone that has been in this business for very long knows the market always precedes moves in the economy, often by months.
That means if the Fed starts to tighten monetary policy in September, the impact on the bond market could start as early as this spring. If that's the case, we want to be ready with our finger on the trigger of opportunity.
The first thing the "shoot from the hip" trader would do is start selling bonds, or the TLT ETF above. If you believe the price of a particular asset is going to fall in the future you close out your long trades and/or short sell the asset. Short selling involves borrowing the asset from your broker and selling it to open a position with the intention of buying it back more cheaply if the asset's price drops.
This all makes sense, but I want you to start asking this question, "WWTD," my acronym for "What Would Tom Do?"
Find an "Inverse Correlation" to Buy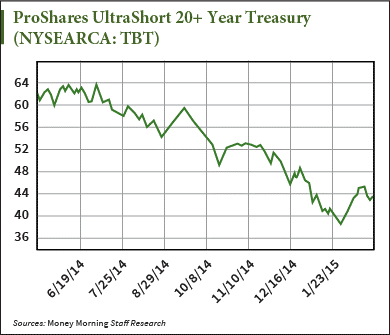 An easier approach is to invest in an instrument that is negatively correlated with TLT. One such family of products are the "Ultra Short" instruments from ProShares. A great choice is the ProShares UltraShort 20+ Year Treasury (NYSE Arca: TBT). Just to satisfy our curiosity, the chart at right is TBT using the same time frame as the TLT chart earlier in this article. TBT moves inversely with TLT, meaning that as TLT drops, TBT typically rises (depending on the correlation of the ETF's individual holdings)
But a potentially more lucrative way to play an interest rate hike is through its effect on brokerage firms. Yes, the ones you and I use every day. When interest rates go up, who in the financial community benefits the most? Brokers, who make money on accounts where they get the interest, the interest float, and short interest. All this money adds to their bottom lines. Of the 30+ publically traded brokerage firms across various exchanges, here are the top five on my list:
Join the conversation. Click here to jump to comments…
About the Author
Tom Gentile, options trading specialist for Money Map Press, is widely known as America's No. 1 Pattern Trader thanks to his nearly 30 years of experience spotting lucrative patterns in options trading. Tom has taught over 300,000 traders his option trading secrets in a variety of settings, including seminars and workshops. He's also a bestselling author of eight books and training courses.