Two of the world's top pharmaceutical companies have announced a merger today (Thursday), and that's another major buy signal for one of our favorite profit opportunities.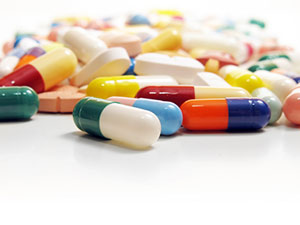 AbbVie Inc. (NYSE: ABBV) officials announced they will purchase Pharmacyclics Inc. (Nasdaq: PCYC) for roughly $21 billion.
The deal gives AbbVie access to one of the world's top-selling cancer drugs, Imbruvica. Revenue from Imbruvica alone is expected to hit $1 billion in 2015 and $5.8 billion by 2020.
Today's pharma company deal is the largest biotech merger of 2015, and one that many Wall Street "experts" didn't see coming…
The Pharma Stock Profit Play Wall Street Is Missing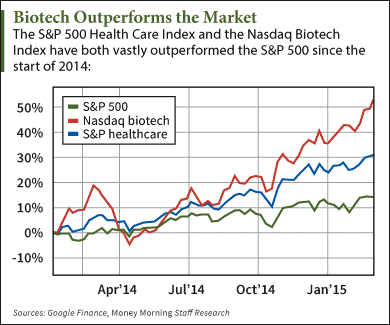 You see, Wall Street declared the market for healthcare M&A activity dead.
The federal government cracked down on "tax inversion" deals in September, and most experts thought that would deter M&A. A "tax inversion" is when a company buys an international firm and headquarters in that country to avoid the United States' high tax rate.
But Money Morning's Defense and Tech Specialist Michael Robinson knew that M&A wasn't going to stop – especially among the top pharmaceutical companies.
His research showed that the M&A market was actually growing. Before today's deal, more than $35 billion had been spent on global healthcare mergers and acquisitions in 2015. That was up 124% from last year. Today's deal pushes that total over $57 billion.
AbbVie's acquisition of Pharmacyclics isn't a tax inversion deal. But it does show that the M&A market is far from "dead" like many predicted.
Healthcare M&A is going to continue. Top pharmaceutical companies go on the hunt for smaller firms when their older patents are about to expire. Instead of developing their own drugs – which can take up to 10 years and $1 billion – they buy other companies with new drugs.
That's the case with today's AbbVie/Pharmacyclics deal. The acquisition takes pressure off AbbVie's biggest revenue generator, Humira. The rheumatoid arthritis drug accounted for $3.36 billion in Q4 alone. However, the company expects sales of the drug to decline in 2017 and 2018.
A new report from Thomson Reuters shows the healthcare sector ranks third for deal making behind the telecom and financial sectors.
"M&A deals will remain a big driver for the whole healthcare industry," Robinson said. "The pickup in M&A activity will translate into healthy bonuses for bankers and lawyers, certainly, but it will also continue accelerate stocks in the biotech and pharmaceutical sectors way past the overall market."
"Since the start of 2014, the S&P 500 Health Care Index has soared 31.5%, and the Nasdaq Biotech Index has advanced 54.5%," he continued. "The wider Standard & Poor's 500 Index, meanwhile, has jumped just 14.3%."
Investors don't have to guess the next takeover target that will see its stock soar. Robinson has found an excellent way to profit from the entire healthcare M&A surge. It's up 17% in 2015, and has plenty of room to run…
The Single Best Way to Profit from Top Pharmaceutical Companies Now