Investing in Etsy stock is not for everyone - mainly because of the huge consideration that the company is not profitable.
Check out what the New York-based company wrote in its IPO filing: "We have a history of operating losses and may not achieve or maintain profitability in the future."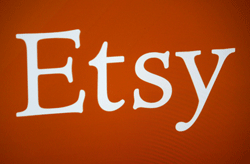 But despite this warning, there are people investing in Etsy stock. Some believe its strong sales growth make Etsy stock a buy.
Others like it for its company culture - something that even Etsy's IPO process has reflected...
You see, Etsy's culture is ingrained in its B Corporation certification. B Lab, the nonprofit that distributes the certifications, awards them to companies that meet certain social, environmental, transparency, and accountability standards. As part of its certification, Etsy offers employees bikes for their work commute and composts food waste.
These wholesome values are central to Etsy's pitch as the company pursued investors on its IPO roadshow. Anyone investing in Etsy stock is likely to enjoy this company philosophy. And Etsy's management considers the well-being of the shareholders and community paramount to its success.
The company asks investors to embrace its mission to "do good" and do well - a mantra Wall Street isn't accustomed to.
"It's like a beautiful test in a way to see if it's possible to have a mission beyond money," said Rett Wallace, CEO of Triton Research, to Bloomberg. "You see these situations all the time where even management is doing their best to take every penny off the table - regardless of what it does to the widows and orphans - you often see fund managers saying, 'You're not doing enough to make money.'"
Investing in Etsy Stock: Vendors Get Piece of IPO
Some Etsy vendors are investing in Etsy stock. Etsy has done something that fits its culture - and is a very anti-Wall Street set up for an IPO...
Etsy has set aside 5% of shares to sell to vendors and other small investors. It'll work through a program overseen by Morgan Stanley. MS set up a special website where vendors interested in investing in Etsy stock can buy between $100 and $2,500 worth of ETSY shares. The site says how much they get for that price will depend on pricing and demand.
According to MarketWatch, some vendors were happy about the publicity the IPO would give to Etsy and its sellers.
But some vendors are reportedly concerned that the Etsy IPO means the company is "selling out." Others are worried that the IPO will lead to higher fees for vendors so that the company can impress shareholders.
Founded in a Brooklyn loft in 2005, the company started as a way for its founders to sell handmade wooden crafts. Now, users buy and sell everything from art and photography to food and bath products. It has grown steadily over its decade-long history, with 54 million members, 1.4 million active sellers, and 19.8 million active buyers around the world.
We'll find out tomorrow how much interest there is in investing in Etsy stock. Stay tuned to Money Morning for an update.
Make More Money This Year, No Matter What the Market Does... You can make 2015 your wealthiest year in a few simple moves. You just need to know the three common investing habits to dump immediately, the single most effective strategy for your portfolio, and five stocks to get you started to a wealthier you. Get all of that right now in this exclusive guide...
#etsy-stock Tweets