Some of the best ETFs to buy in 2015 help investors get a piece of a very lucrative trend: mergers and acquisitions.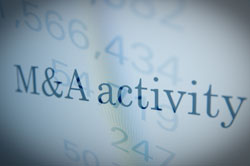 The collective total of global M&A announced year to date eclipsed a whopping $1 trillion through the first week of April, according to Dealogic.
At the current pace, M&A activity is on track to exceed $3.7 trillion in 2015. That would make this year the second biggest for deal-making since 2007. A total $4.3 trillion in deals was inked that year.
Deals announced so far this year are both numerous and hefty in size. Fifteen of this year's deals carry a price tag of more than $10 billion. That's the highest on record, Dealogic reports.
Last Wednesday brought two deals worth some $100 billion. Royal Dutch Shell Plc. (NYSE ADR: RGS.A) announced it will buy BG Group Plc. (LON: BG) for $70 billion. And Mylan NV (Nasdaq: MYL) courted Perrigo Co. Plc. (Nasdaq: PGRO) with a $29 billion proposal.
These latest deals further stoked hopes that more transactions are on the horizon.
It's never wise to buy a stock purely based on takeover speculation. But dedicating a small allocation to this strategy affords a way to play merger mania with less risk. And ETFs offer a great way to do so.
Following are two of the best ETFs to buy to get exposure to the lucrative M&A market. Both ETFs have bested the year-to-date gains for the Dow Jones Industrial Average (1.6%) and S&P 500 (2.24%) - one by a wide margin.
Best ETFs to Buy to Profit from M&A Activity
Best ETFs to Buy, No. 1: The IQ Merger Arbitrage ETF (NYSE Arca: MNA) covers takeover targets worldwide.
The fund's goal is to achieve capital appreciation by investing in global companies for which there has been a public announcement of a takeover by an acquirer. The approach is based on a passive strategy of owning certain announced takeover targets. The aim is to generate returns representative of global merger arbitrage activity.
MNA also includes short exposure to global equities as a partial equity market hedge.
The fund's one-, three-, and five-year returns are 6.79%, 11.99%, and 10.71% respectively. Its year-to-date return is 3.73%.
This next ETF is crushing the broader market in 2015...
Best ETF to Buy No. 2: The SPDR S&P Pharmaceuticals (NYSE Arca: XPH) ETF is composed of some of the top pharmaceutical companies on the market and several aggressive small caps.
Money Morning Tech Specialist Michael A. Robinson recommends the fund as a way to profit from the ongoing surge in healthcare M&A activity. For Q1 2015, healthcare M&A totaled $104.9 billion, according to Health Care M&A News.
"XPH is not an M&A fund - but it's a great way to take advantage of the trend," Robinson said. "Many companies in the fund's portfolio will likely end up growing through mergers. Or they could become targets themselves."
[epom key="ddec3ef33420ef7c9964a4695c349764" redirect="" sourceid="" imported="false"]
The ETF has 36 holdings, including Actavis Plc. (NYSE: ACT), Jazz Pharmaceuticals Plc. (Nasdaq: JAZZ), Eli Lilly & Co. (NYSE: LLY), and Merck & Co. Inc. (NYSE: MRK). The average market cap is $36 billion.
XPH is up 19.47% year to date. Since the start of 2014, the fund has gained 47.5%. That compares to just 8.3% for the Dow Jones and 13% for the S&P 500 during the same time period.
"The beauty of a play like this one is that rather than try to pick a single winner, we get the benefit of the entire sector's operations," Robinson said. "That makes XPH an excellent foundational investment to pave your road to wealth."
Make More Money This Year, Starting Today... You can make 2015 your wealthiest year yet in a few simple moves. You just need the three common investing habits to dump immediately, the single most effective strategy for your portfolio, and five stocks to get you started to a wealthier you. Get all of that right now in this exclusive guide...
Related Articles: