Some of the best ETFs to buy in 2015 help investors get a piece of a very lucrative trend: mergers and acquisitions.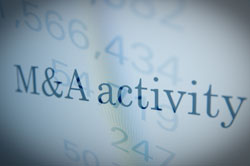 The collective total of global M&A announced year to date eclipsed a whopping $1 trillion through the first week of April, according to Dealogic.
At the current pace, M&A activity is on track to exceed $3.7 trillion in 2015. That would make this year the second biggest for deal-making since 2007. A total $4.3 trillion in deals was inked that year.
Deals announced so far this year are both numerous and hefty in size. Fifteen of this year's deals carry a price tag of more than $10 billion. That's the highest on record, Dealogic reports.
Last Wednesday brought two deals worth some $100 billion. Royal Dutch Shell Plc. (NYSE ADR: RGS.A) announced it will buy BG Group Plc. (LON: BG) for $70 billion. And Mylan NV (Nasdaq: MYL) courted Perrigo Co. Plc. (Nasdaq: PGRO) with a $29 billion proposal.
Sign up for SMS so you never miss special events, exclusive offers, and weekly bonus trades.
These latest deals further stoked hopes that more transactions are on the horizon.
It's never wise to buy a stock purely based on takeover speculation. But dedicating a small allocation to this strategy affords a way to play merger mania with less risk. And ETFs offer a great way to do so.
Following are two of the best ETFs to buy to get exposure to the lucrative M&A market. Both ETFs have bested the year-to-date gains for the Dow Jones Industrial Average (1.6%) and S&P 500 (2.24%) - one by a wide margin.
Best ETFs to Buy to Profit from M&A Activity
Best ETFs to Buy, No. 1: The IQ Merger Arbitrage ETF (NYSE Arca: MNA) covers takeover targets worldwide.
The fund's goal is to achieve capital appreciation by investing in global companies for which there has been a public announcement of a takeover by an acquirer. The approach is based on a passive strategy of owning certain announced takeover targets. The aim is to generate returns representative of global merger arbitrage activity.
MNA also includes short exposure to global equities as a partial equity market hedge.
The fund's one-, three-, and five-year returns are 6.79%, 11.99%, and 10.71% respectively. Its year-to-date return is 3.73%.
This next ETF is crushing the broader market in 2015...