Two big pharma companies are in merger talks this week. Teva Pharmaceutical Industries Ltd. (NYSE: TEVA) announced Tuesday it's making a $40 billion bid for Mylan NV (Nasdaq: MYL).
It would be the largest healthcare deal of 2015. Teva officials said the offer was worth $82 per share and would be a 50/50 combination of cash and stock.
MYL stock climbed 8.6% Tuesday on the news. TEVA shares climbed 1.2%.
Combined, the two firms would have revenue near $28 billion. That would make the company the ninth-largest pharmaceutical company in the world based on revenue.
Here's a look at the top 10 big pharma companies globally: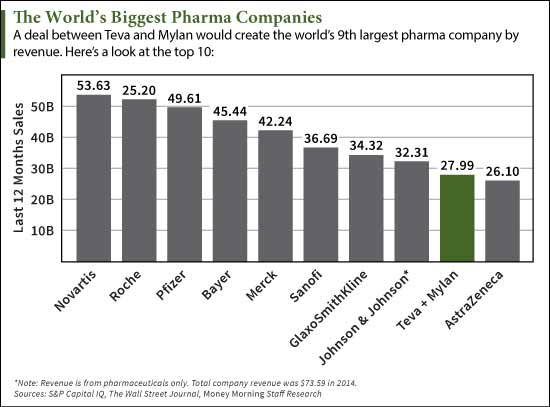 Teva is an Israel-based pharmaceutical company that develops generic drugs in all categories. It's best known for its multiple-sclerosis treatment Copaxone.
A generic version of Copaxone was just approved by the FDA this week. It's expected to eat into the company's revenue. Copaxone currently accounts for roughly half of Teva's profits. Acquiring Mylan would help Teva strengthen its product portfolio.
Mylan is also a generic drug company and is a major rival to Teva. The allergic-reaction treatment EpiPen is the company's best-known product.
Mylan officials already announced that they will reject the offer, but that doesn't mean a deal is totally dead. Teva directors could still push for a hostile takeover of the rival firm.
This week's bid is part of a growing trend of M&A activity in the healthcare sector. In 2015, $175.6 billion has already been spent by big pharma companies on mergers. That's after nearly $278 billion was spent in 2014.
And there is an excellent way for investors to profit from that M&A boom.
Money Morning's Defense and Tech Specialist Michael Robinson told readers in February the M&A market would continue to boom. Wall Street pundits claimed the market was dead - but Robinson knew that wasn't the case.
He recommended a way to play the market, and it's already jumped 21% in 2015. Here's his pick, and why it will continue bringing profits in 2015...
Big Pharma Companies Are Merging - Here's How to Profit