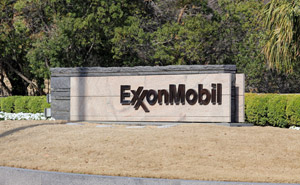 Exxon Mobil Corp. (NYSE: XOM) dominates the world of Big Oil in terms of market cap and brand recognition. The $364 billion company is widely embraced by income investors thanks mostly to the healthy XOM dividend.
Oil stocks provide some of the best dividends on the market. The oil drilling and exploration sector has an average dividend yield of 17.84% thanks to most firms being structured as master limited partnerships (MLPs), trusts, or limited liability corporations (LLCs). That yield smashes the S&P 500's 1.93% average and the Dow Jones' 2.65% average. The XOM dividend yield is 3.17%.
But with oil prices still far below record highs, does the XOM dividend make Exxon stock a buy today? Here's a look at XOM's value to your portfolio…
Exxon (NYSE: XOM) Dividend Boasts Aristocracy
First, now is still a great time to buy dividend stocks with healthy yields like Exxon's.
The 10-year Treasury yield has fallen 10.1% so far this year. It lingers around 1.92% as of April 24. That means investors are currently seeking stable dividend-paying stocks for passive income.
According to Forbes, a dividend stock is a good bond replacement because it can be viewed as "a floating-rate bond with an 'equity kicker' in that the share price could rise." In other words, dividend stocks have all the benefits of a bond – but with potentially better returns due to increasing share prices.
One way to tell if a company can support its dividend is to look at its S&P AAA credit rating. Companies with AAA ratings are trustworthy in terms of their credit history and indicate high investment quality.
The 2008 recession saw many companies, such as General Electric Co. (NYSE: GE), lose their AAA rating. The list of AAA U.S. companies now only includes Johnson & Johnson (NYSE: JNJ), Microsoft Corp. (Nasdaq: MSFT), and Exxon.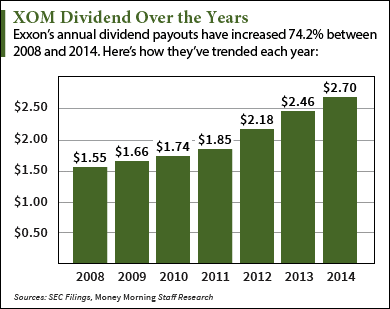 With a AAA rating and the highest yield of all three, the XOM dividend is one of the best on the market.
XOM has delivered a constant stream of quarterly payouts since starting its dividend policy 32 years ago. The XOM dividend's 6.4% average annual growth rate has made it one of the most mature high-yield oil plays since the policy's inception.
Exxon is one of the few energy companies that is a "dividend aristocrat." The dividend aristocrats are stocks on the S&P 500 that have increased their payouts for at least 25 consecutive years. The list has grown from 42 constituents in 2010 to 54 in 2014.
And its growth smashes that of other oil companies by a huge margin. Exxon's dividend has increased 34.2% more than BP Plc.'s (NYSE ADR: BP) dividend in the last three years. Exxon's payout growth has also beaten that of Royal Dutch Shell Plc. (NYSE ADR: RDS.A) by 60.4% in the last five years.
Now for the big question…
With a Healthy Dividend, Is Exxon Stock a Buy?