The Alibaba earnings date is set for May 7. The company is expected to report earnings per share (EPS) of $0.43 and revenue of $2.78 billion.
But with the Alibaba Group Holding Ltd. (NYSE: BABA) earnings date just around the corner, some investors are worrying about a recent statement from the company's founder Jack Ma.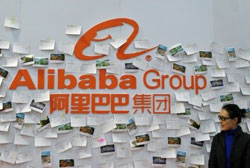 This week, Ma said his company "has really developed too quickly." He's starting a hiring freeze that will last through 2015.
At the end 2014, Alibaba had 34,081 employees. That was a 63% gain from 2013's employee count.
The news has hit BABA stock, which has fallen nearly 3% from Monday. It closed at $82.45 Wednesday.
That pushes BABA's total 2015 decline to 21%.
Now investors who heard so much about BABA's potential leading up to the record-breaking $25 billion IPO are wondering what to do with the stock.
Here's the deal: Despite the recent hiccups, Alibaba stock is one of the best long-term buys on the market today.
In fact, Money Morning's Defense and Tech Specialist Michael Robinson says Alibaba "could be the single-greatest wealth opportunity of our lifetime."
Here are three reasons why we're long-term bulls on BABA stock…
Three Reasons to Be Bullish on Alibaba Stock Now
The first reason to be bullish on Alibaba is its home market.
In 2013, online shopping in China was a $298 billion industry. That surpassed the United States as the largest e-commerce market in the world.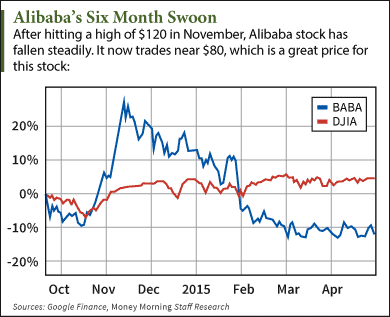 The market is growing too. The management consulting firm AT Kearny estimates it will be worth $718 billion by 2017. A recent study by the China Internet Network Information Center (CNNIC) determined the number of Internet users in the country will hit 800 million by 2016 or sooner.
"Alibaba is gaining traction in its home market in China just as that country's people are truly joining the Internet revolution," Robinson said. "And the development of easy-to-use mobile commerce is giving Alibaba a strong tailwind."
The second reason to be bullish is Alibaba's mobile push.