Alibaba Stock
Why Alibaba Stock Is a Strong Buy in 2019
In 2017, the price of Alibaba Group Holding Ltd. (NYSE: BABA) stock climbed a whopping 93.57%.
And for 2018, more gains should be on the way…
China International Capital projects the BABA stock price could climb to $242 per share in the next 12 months.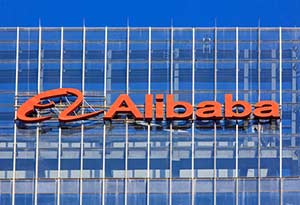 That's a potential profit of 27.54% by the start of 2019.
Here's more on why Alibaba stock is projected to climb double digits this year…
The History of Alibaba Stock
Back In 1999, BABA was created by former English teacher Jack Ma. He wanted the company to have recognition across the world, so he picked the name Alibaba.
At first, Ma's company was only an online, business-to-business portal to facilitate sales for small exporters in China. When the company was only a year old, Ma was able to convince Japan-based SoftBank to invest $20 million.
By 2001, Alibaba had 1 million registered users shopping on its online retail service.
In 2003, the company developed a consumer-to-consumer shopping site named Taobao. Then, in
2004, Alibaba developed an online payment system, Alipay.
Alipay allows for fast, easy, and safe online payments, according to its website.
Continuing to grow the company, Alibaba joined forces with Yahoo! Inc. in a strategic partnership. Yahoo announced in August 2005 it would by a 40% stake in Alibaba.
The investment gave Alibaba more capital to expand, and it gave Yahoo a larger presence in China.
After years of strategic partnerships, BABA finally decided to let American investors own a piece of the company.
When Did Alibaba Go Public?
Alibaba went public on Sept. 19, 2016. It priced its IPO at $68 per share, which gave the company a valuation of $168 billion.
Investors were so anxious to get their hands on BABA stock that the price climbed to $92.80 the day after the IPO.
Since the 2014 Alibaba IPO, the Alibaba stock price has climbed 179.014%.
How Did Alibaba Stock Perform in 2017?
On Jan. 3, 2017, the BABA stock price opened at $89 per share.
On Dec. 29, 2017, the Alibaba stock price opened at $172.98 per share.
In roughly a year, that was a gain of 93.57%.
And here's why everyone is so bullish on BABA stock in 2018…
Alibaba's Diversification Will Attract More Customers
Consumer product companies have a mantra: "If you win China, you win the world."
The company grabbing China is Alibaba.
While BABA's retail sales machine is most comparable to Amazon.com Inc.(Nasdaq: AMZN), Alibaba also connects consumers and business providers in sectors Amazon doesn't touch, such as medical advice.
It has a prescription-filling sector that delivers to patients' homes. The market is exceptionally robust for such a business.
Management consulting firm McKinsey & Co. expects Chinese spending on healthcare to climb from $350 billion to $1 trillion by 2020, a nearly threefold expansion in four years.
BABA also has a subsidiary that delivers food to consumers. Online2Offline will bring consumers fresh groceries, and Koubei will bring them restaurant food.
Does Alibaba's journey sound familiar?
You see, Amazon has taken notice of Alibaba. How do we know? Because it seems like there's a strong case of "imitation is the sincerest form of flattery" going around.
Amazon clearly sees Alibaba as a close competitor. They've also noticed that there are things Alibaba is doing that Amazon isn't. Those things are helping Alibaba make more money and diversify income streams.
So, Amazon has taken steps that make it more similar to Alibaba. Such as buying PillPack, an online pharmacy in June 2018. And, in late 2017 the delivery-giant bought health-food grocer Whole Foods.
Those two purchases make it look a lot like Amazon is positioning themselves to compete against Alibaba.
If you missed investing in Amazon before it became a mega-company, you have another opportunity with Alibaba.
Amazon is clearly watching Alibaba and must think they'll be a successful company. If they are, so should you.
Also, don't forget about Baba's entertainment offerings…
Baba acquired Youku Tudou Inc., often dubbed the Chinese YouTube, during 2015 as a strategic step to move into the online video industry in China.
BABA's growth is also skyrocketing in cloud computing. In 2016, Alibaba's cloud sales soared to $675 billion.
That's an increase of 126.5% from 2015 sales of $298 million.
Over half a million customers receive cloud computing services from BABA, according to Bloomberg Technology.
In terms of a massive revenue generator, BABA shareholders should also keep their eye on "Singles' Day."
Alibaba's Singles' Day Is a Massive Revenue Generator
No one is quite sure who invented Singles' Day, but it emerged as a student tradition in the mid-1990s, according to TechInAsia.com.
The most widely accepted story about the creation of Singles' Day is that it started in the dorms of Nanjing University in 1993. The idea was to create an anti-Valentine's Day tradition.
The first adopters were mostly men, but single women began getting involved as well.
On Singles' Day, mostly young people will go out to restaurants and splurge on buying products.
In 2017, Alibaba racked up over $25.3 billion in sales during its Singles' Day holiday.
Check out the numbers BABA did during the 24 hours of Singles' Day.
Sales were up 42% from the $17.8 billion the company made last year.
It did nearly four times the revenue of Black Friday and Cyber Monday ($6.76 billion) combined.
Revenue added up to more than the GDP of Iceland.
It dominated the $1 billion Amazon moved during its most recent "Prime Day" – the
company's biggest sales day ever.
If the numbers from 2017 are any indication, Singles' Day in 2018 is going to be another huge year for Alibaba.
That's why BABA is one of our favorite stocks to own…
Why BABA Stock Is a Top Pick
That vision for global growth is part of the reason Money Morning Executive Editor Bill Patalon recommends Alibaba.
"Alibaba's moves into entertainment, media, cloud computing – these are all part of a broad vision Jack Ma and his executive team have for Alibaba," Patalon said.
"I knew that, as a hot IPO, there was every chance the stock could – and probably would – sell off," Patalon said. "It's a 'transformational' type of company, meaning its leaders are 'planting seeds' right now that will have big future payoffs."
Since 2013, Alibaba has purchased companies in a variety of industries, including retail, entertainment, tech, and even a professional soccer team.
The company is more than just an e-commerce firm. You see, Alibaba is now trying to disrupt the Chinese banking system…
In 2004, Ma identified several flaws with Chinese banking practices. In order to help Chinese residents avoid middlemen, Alibaba created China's first customer-to-customer payment system. Known as Alipay, this system was soon processing nearly 50% of Chinese e-commerce transactions.
Several years later, Alibaba opened a money market product in 2013. Alibaba's money market product, Yu'e Bao, reported 100 million opened accounts a year after its launch.
BABA stock is an attractive addition to portfolios because of Ma's ability to identify a problem, find a solution, and make money from the solution.
Patalon says you can't look at Alibaba as a short-term investment. This is the kind of stock you buy and hold for a long period of time.
The company has its sights set on the long term.
So while the price of BABA stock may seem "expensive" now, the long-term gains mean today's prices are trading at a discount to where BABA stock could trade in the future.
After all, just look at the nearly 100% gains of 2017.
Why You Should Buy BABA Stock Right Now
With the uncertainty in the global marketplace and a brewing trade war between China and the U.S., it's no wonder Alibaba has seen a decline in stock price this year.
Alibaba stock hit a low in 2018 at $133.38 on October 29. That's a 27% loss over the year to date. Alibaba's 2018 high was in June at $211.70. Even though the 2018 low was recent and is still painful, the stocks outlook remains bullish.
Tensions remain high within the global marketplace and the outcome between China and the U.S. isn't clear.
With these low prices, you're probably wondering why we're recommending you purchase BABA stock. Well . . .
It's because the BABA stock price is undervalued.
These bargain prices for a valuable stock that has massive potential won't last long. With Alibaba's focus on the future and an expanding core market, this is a great time to buy-before it surges upward again
After all, just look at the nearly 100% gains of 2017. Imagine what could happen in 2019.
BABA Stock in the Future
If you're looking for a tech company to invest in, BABA stock is a great place to start. BABA is a future-focused company that's innovating to continue its growth.
As a Chinese company, it's poised to grow substantially as it has a lot of potential market capture.
Don't miss out on the opportunity to buy early and buy while this stock is affordable. BABA stock is for your future.
If you're interested in tech stocks, you might also be interested in our predictions and thoughts on Apple stock.