Alibaba Stock
The Alibaba Stock Price Prediction Investors Can't Miss
Alibaba Group Holding Ltd. (NYSE: BABA) has seen shares soar nearly 30% this year so far.
Alibaba stock now trades around $105.
What a welcome performance for BABA stock, after shares fell around 60% from November 2014 to September 2015. Critics wrote off Alibaba shares, saying it was a dud stock that would never rebound.
But even after this climb, we remain bullish on Alibaba stock. The company's potential is strong.
Money Morning Defense & Tech Specialist Michael A. Robinson believes that Alibaba stock is undervalued. He says Alibaba possesses "a strategic depth that foreign companies can't even buy."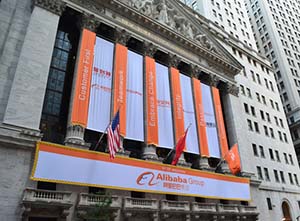 Robinson estimates that its three- to four-year price target range is roughly $150, a nearly 50% climb from Alibaba stock's current price.
Here's why…
Why Alibaba Stock Will Keep Rising
To understand the profit potential in Alibaba stock, look at the company as an aggressive online retailer in China – at its core, analogous to U.S. online retailer Amazon.com (Nasdaq: AMZN).
But Alibaba has the benefit of its exposure to the fast-growing Chinese economy.
In addition, though, Alibaba connects buyers and sellers online in all sorts of sectors: medical advice, cloud computing, entertainment, and more.
In 1999, Alibaba was formed by former English teacher Jack Ma. The global ambitions were signified by the moniker "Alibaba"; Ma picked the name because it had worldwide recognition.
At first, Alibaba was an online B2B portal to facilitate sales by smaller exporters in China. When the company was only a year old, Japan-based SoftBank took a $20 million stake.
Alibaba began to show a profit by the end of 2001, with 1 million registered users for its online retail service.
Two years later, the company developed a consumer-to-consumer shopping site named Taobao. If Alibaba in the aggregate is roughly analogous to amazon.com, Taobao is analogous to eBay Inc. (Nasdaq: EBAY).
In 2004, Alibaba developed an online payment system, Alipay, which was spun off later.
A year later, Alibaba joined forces with Yahoo! Inc. (Nasdaq: YHOO) in a strategic partnership. Yahoo announced in August 2005 it would by a 40% stake in Alibaba – both companies wanted to chip away at eBay's top spot in online retail.
In September 2014, Alibaba stock starting trading on the New York Stock Exchange (NYSE). The initial public offering (IPO) for Alibaba stock was the largest in the history of the NYSE, worth more than $21 billion, or $68 per share.
Alibaba is still a rapidly growing company.
Its 2010 revenue topped $1 billion. Three years later, the revenue was reported at more than $5 billion. In 2015, it was over $11.75 billion – a more than doubling of the top line in two years.
Alibaba's rapid growth is fueled by the rapid growth of China, both in population and in economic demand. In the past, China was not known for its middle class or its affluence. However, it now has a middle class: an estimated 109 million Chinese consumers.
In three and a half years – by 2020 – the Chinese middle class is expected to hit 500 million. That's 500 million Chinese consumers who purchase the kind of merchandise and services Alibaba provides.
Indeed, Robinson points out that the demographic and economic changes are driving a significant change in the nature of China's economy. Historically driven by state planning, it is now driven by consumers, more like the United States.
Despite economists' fears that Chinese growth is slowing, Robinson says that even a slackening Chinese economy far outpaces that of other developed countries. The Chinese growth rate was recorded at 6.7% in the first quarter of 2016, the lowest rate in seven years. But the U.S. economy is rising at a meager 2%, so even a reduced Chinese growth rate is far more robust.
Robinson also notes that, even while the Chinese stock market was dropping in 2015, Alibaba's revenue continued impressive growth. In the last quarter of 2015, Alibaba's number of annual active buyers nearly doubled from year-prior figures, to 400 million from 21 million. Its monthly active users in mobile rose far greater, to 393 million from 47 million.
Despite this phenomenal growth and the factors that strongly indicate robust future growth, the Alibaba stock price has been occasionally hit by short-term perception or obstacles.
Growth Picture Outweighs BABA Stock Concerns
First are concerns about the Chinese economy, combined with hype surrounding the IPO. Although BABA stock did gain immediately after the IPO, it lost 30% of its value once the initial period was over.
Then the Chinese stock market took a dive.
Since 94% of BABA's business is in China, investor perceptions were that its weakening economy would impact the business.
However, the impact may not be that great. Morningstar reports that the company's earnings are expected to rise 28.5% per year in each over the next five-year period. In other words, Alibaba will more than double its earnings in four years.
The company faced more serious concerns when the U.S. Securities and Exchange Commission (SEC) launched a probe this spring.
Alibaba stock fell on the news that the SEC was looking into BABA's yearly "Singles' Day" reporting for last year. Singles' Day is a Chinese holiday in which unmarried people are enticed with major sales.
How major?
Well, buyers purchased over $5 billion on the company's online platform in just the first hour and a half. In the 24-hour period, $14.3 billion in sales were registered, a 60% gain from 2014 levels.
One issue could be a reporting practice that has drawn criticism before this. Apparently, Alibaba reports the sales for Single's Day as gross merchandise volume (GMV), which accounts for the buys in a selected period. However, as all retailers know, it doesn't reflect returns, late deliveries, or canceled deliveries.
The watchdogs are also reported to be concerned with sales of counterfeit products on its online platforms. Alibaba has received one such warning after the owners of brands complained to regulators about fake and pirated products.
The company cautioned that an investigation does not mean that Alibaba is guilty of the charges.
Alibaba stock investors were concerned again when in June, SoftBank, an early investor in Alibaba, sold part of BABA stock. The move was initially seen as a potential loss of faith in BABA. The monetary size was large enough – $7.9 billion in BABA stock – to provoke investor concern.
However, the total amount was only 4.3% of SoftBank's stake in Alibaba stock overall. It still owns a hefty amount.
The real reason SoftBank sold a piece of BABA was to reduce the debt it incurred buying stakes in Sprint Corp. (NYSE: S). SoftBank bought 2% of Sprint in 2013, leaving it with 80% control of the U.S.-based telecom.
Satoru Kikuchi, an analyst with SMBC Nikko Securities, estimates that the sales of Alibaba stock might drive SoftBank's credit rating up, since roughly 33% of the company's $80 billion net interest-bearing debt is linked to Sprint.
Indeed, SoftBank announced that the sale of BABA was undertaken to gain more financial flexibility for SoftBank.
It was not related to BABA.
In fact, the relationship between Jack Ma and Masayoshi Son, the chief executive officer of SoftBank Group Corp., is strong. Each sits on the board of the other's company.
Moreover, The Wall Street Journal has reported that the two companies plan to join together in introducing services for cloud-computing in Japan.
More International Catalysts for Alibaba Stock
In addition to the growth expected in the Chinese consumer sector, Alibaba is expected to drive growth from the expansion of its businesses and its expansion into countries other than China. Jack Ma has indicated that eventually he wants more than 50% of BABA's business to derive from outside China.
Expansion of businesses? Robinson focuses on BABA's innovative online program that fills prescriptions and delivers directly to the home of the patient. "There's a lot of money to be made here," he observes. "Healthcare spending in China is expected to rise from about $350 billion last year to a $1 trillion by 2020, according to McKinsey. That's as good as a triple in four years."
Its expansion into other internet-based retail and other services has been robust as well.
It has invested in several subsidiaries that will deliver food via the internet. The first is for fresh groceries, Online2Offline. The second is an app for ordering food, Koubei.
Early this year, Alibaba purchased a more than 5% stake in Groupon Inc. (Nasdaq: GRPN), a site that offers frequent deals to consumers via the internet. The purchase gives Alibaba a 5.6% stake in Groupon, as well as a vast reach in the growing online commerce marketplace that connects merchants to consumers.
Alibaba purchased Youku Tudou Inc., the China's YouTube, in 2015, as part of a strategy to become the leader in online video in China.
BABA is moving into cloud computing, Big Data and software as a service sectors as well, and its growth is very robust. Its cloud business rose 126% in 2015's last quarter over the year-prior period. In the March earnings release, the cloud computer division (called Aliyun) was responsible for revenue of $154 million – nearly triple the year-prior figure.
Currently, Bloomberg Technology reports that BABA supplies more than 500,000 customers with cloud-computing services.
The company opened two data centers last year, with the goal of reducing costs in the cloud for the startup sector.
Alibaba is growing rapidly within a sector that is itself projected to rise by leaps and bounds. Forbes estimates that almost 90% of global mobile data traffic will come from cloud applications by 2019. And the worldwide market for SaaS? A rise of 13%, to $67 billion from $59 billion in 2015.
Their growth in sectors is matched by its growth as a brand outside China. In April, Alibaba reported that it is set to purchase a controlling stake in Singapore-based Lazada Group, a retailer with extensive operations in Indonesia, Malaysia, the Philippines, Thailand, and Vietnam.
There is enormous economic potential in that part of Asia. The market for e-commerce totaled $10.5 billion last year, according to consultants at Frost & Sullivan. The figure sounds robust but equates to only 1.5% of all retail sales.
The figure is far under e-commerce as a percentage of total sales in the U.S., which is 8%, and in China, where it is 12%.
Part of the reason for the relatively low rate is regional infrastructure challenges. Part of e-commerce, after all, is delivery of the goods, and neither roads nor shipping are always well-developed or reliable.
Nonetheless, the expansion potential is tremendous. It is Alibaba's largest deal so far, at an estimated $1 billion.
Alibaba President Michael Evans notes that the stake in Lazada gives Alibaba "gains access to a platform with a large and growing consumer base outside China, a proven management team, and a solid foundation."
The deal will be accomplished through buying a more than 8% stake in Lazada currently owned by Tesco Plc., the largest supermarket company in the U.K. A portion will be roughly $500 million in newly issued shares of Lazada.
But BABA's brand expansion is not confined to Asia. It is also involved in emerging markets like Brazil and Russia via its AliExpress site, which connects Chinese merchants to global buyers.
In Russia, TNS reports that AliExpress was the biggest shopping site overall in 2014.
Even though many individual investors are still unsure about the potential of Alibaba stock, for once Wall Street seems to have it right…
Alibaba Stock Broadly Rated a Buy
In June, The Wall Street Journal reported that 29 out of the 39 analysts following Alibaba stock rate it a "Buy." Four more rate it "Overweight." Five rate it a "Hold." Only one has an "Underperform" rating.
Money Morning continues to rate Alibaba stock a top pick. Alibaba stock price acceleration has been steady, and the growth picture both for its sectors and its global expansion is bright. We see it as one of our strongest long-term holds going in to 2017.
Follow Money Morning on Facebook and Twitter.
When did Alibaba stock go public?
Alibaba stock went public on Sept. 19, 2014. Alibaba priced its IPO at $68 per share, which valued that company at $168 billion. Investors were so anxious to own BABA stock that the price climbed to $92.70 the day after the IPO. Since the IPO, the Alibaba stock price has climbed more than 52%.
How is Alibaba stock doing in 2016?
In 2016, Alibaba stock is outperforming the markets. Alibaba posted impressive quarterly earnings on Aug. 11, stating that revenue in its expanding cloud computing business climbed to $187 million, a 156% increase year over year. This earnings report has helped the BABA stock price climb 29% so far in 2016.  Money Morning Executive Editor Bill Patalon believes Alibaba will become the world's first $1 trillion company based in terms of market value. With a market cap of $250 billion today, the Alibaba stock price will climb to $400 a share, according to Patalon.
Why should I buy Alibaba stock?
Money Morning Executive Editor Bill Patalaon says Alibaba stock is a legacy stock you want to keep forever. Chairman Jack Ma's aggressive purchases in tech, retail, and entertainment have turned it into far more than just an ecommerce site. Alibaba has also entered the banking sector, purchased a soccer team, and is dominating the entertainment industry in China with several key acquisitions and partnerships.