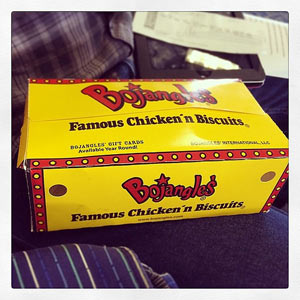 The Bojangles' Inc. (Nasdaq: BOJA) IPO is here. BOJA stock started trading today, May 8.
The Bojangles' stock price was originally supposed to range from $15 to $17. On Wednesday, the company increased the price range to $18 to $19 a share.
Because the Bojangles' IPO is the second restaurant IPO of 2015 behind Shake Shack Inc. (NYSE: SHAK), we've answered the biggest questions that investors have now.
Here's everything you want to know about BOJA stock's debut – and whether or not it's a buy…
Your Bojangles' IPO Questions Answered
What is the Bojangles' stock price today?
Last night, the Bojangles' IPO price was set at $19, the high end of the upwardly revised range. At 2:15 p.m., the Bojangles' stock price was around $25 a share – 31% higher than its IPO price.
How much money did the Bojangles' IPO raise?
Bojangles' sold 7.8 million shares. The company raised $143 million in its IPO.
On Wednesday, Bojangles' raised its deal size by 43%. It originally planned to raise $100 million by offering 6.3 million shares at a range of $15 to $17.
How much is Bojangles' worth?
After the IPO, Bojangles' sits on a market valuation of $750 million. That's tiny compared to Shake Shack's $2.3 billion valuation and Habit Restaurants Inc.'s (Nasdaq: HABT) $946 million valuation, the last two restaurants to go public.
What kind of company is Bojangles'?
Founded in 1977 and based in North Carolina, Bojangles' is a southeastern restaurant chain with 622 locations across 10 states and Washington, D.C. The company is known for its fried chicken, all-day breakfast, and made-from-scratch biscuits.
Bojangles' deep-fried menu items don't offer much for health-conscious customers. The company acknowledges that competition from other restaurants could affect profits.
"We expect competition in this market and each of our other markets to continue to be intense because consumer trends are favoring limited service restaurants that offer healthier menu items," the IPO filing stated. "If our company-operated and franchised restaurants cannot compete successfully with other quick-service and fast-casual restaurants in new and existing markets, we could lose customers and our revenues could decline."
How much money does Bojangles' make?