We don't know exactly when the Xiaomi IPO date will be, but one thing is crystal clear.
When the Chinese smartphone maker does go public, Wall Street will gobble up shares of Xiaomi stock.
The ambitious company – just five years old – has already become the top-selling smartphone vendor in its home country. Last year Xiaomi Corp. moved into third place in the global smartphone market.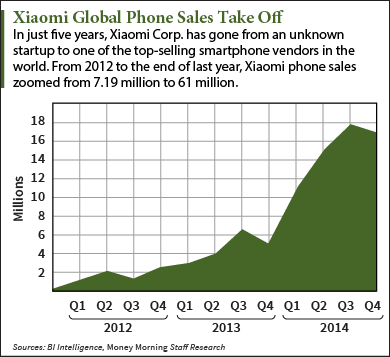 Every aspect of this company says it's ripe for an IPO, even though the company has said it wants to stay private for a while longer.
For one thing, it currently has the highest valuation – $46 billion – of any startup, according to The Wall Street Journal. Uber has the second-highest valuation at $41.2 billion.
Russian billionaire Yuri Milner, who invested in Facebook Inc. (Nasdaq: FB) back in 2009, thinks Xiaomi's valuation could hit $100 billion. Milner's DST Global has been investing in Xiaomi since 2012.
"I was attracted by the size of the opportunity ahead of them," Milner told Bloomberg in December. "I don't think there's any company that has reached $1 billion in revenue as fast as Xiaomi. In every conceivable benchmark, it's almost unprecedented in terms of its speed of growth."
It's also very likely that a Xiaomi IPO will take place in the United States, either on the New York Stock Exchange or the Nasdaq.
Chinese tech companies generally prefer the U.S. market to Hong Kong because U.S. investors favor tech stock more so than Chinese investors. Chinese companies are also fond of multiple share classes, like Google Inc. (Nasdaq: GOOG, GOOGL), which the Hong Kong exchange does not yet allow.
Last year alone, Momo Inc. (Nasdaq ADR: MOMO), JD.com Inc. (Nasdaq ADR: JD), Weibo Corp. (Nasdaq ADR: WB), and, of course, Alibaba Group Holding Ltd. (NYSE: BABA) all had IPOs in the U.S.
The probable Xiaomi stock symbol is "MI," as the company uses the "Mi" moniker extensively in its branding.
Meanwhile, almost everything the company has done has served to whet an investor's appetite for the eventual Xiaomi IPO – take a look…