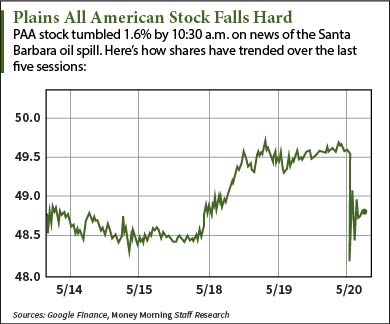 The Plains All American stock price is moving today (Wednesday) in the wake of a West Coast oil spill.
Late yesterday (Tuesday) afternoon, emergency officials responded to a ruptured pipeline along the Santa Barbara County coast. The 24-inch pipeline leaked nearly 500 barrels, or 21,000 gallons, of crude oil that stretched about four miles along the California coastline.
Plains All American Pipeline LP (NYSE: PAA), the owner of the pipeline, said it shut down the flow of oil. The company said the leaked oil spilled into the Pacific Ocean after it reached a culvert running under a highway.
This is not Plains All American's first oil spill. According to the EPA and U.S. Justice Department, the company is responsible for 10 crude oil spills in four states, including Texas, Louisiana, Oklahoma, and Kansas.
Here's where the Plains All American stock price is after this latest spill...
How Has the Oil Spill Moved Plains All American Stock?
The PAA stock price saw a sharp drop overnight.
Plains All American closed at $49.59 yesterday, up 0.2% from the previous close. By market open today, it was down 1.7% and trading at $48.75 a share.
Like most oil companies, Plains All American has struggled from low oil prices. PAA shares have fallen 12.1% in the last year and 3.4% in 2015 alone.
Its first-quarter financials were also weak. The company posted earnings of $283 million, down 26% from $384 million in Q1 2014. Its earnings per share fell 52% from $0.73 to $0.35.
Plains All American is a master limited partnership (MLP), meaning it makes most of its money from midstream assets like storage facilities and pipeline operators. Instead of owning oil, MLPs transport, store, and process it. While they have limited exposure to price volatility, struggling oil prices have contributed to a production decline recently.
PAA stock is clearly not a buy right now. It will likely remain volatile as the oil spill situation continues to unfold.
Instead, there are better picks in the oil sector. In fact, Money Morning's Executive Editor Bill Patalon just recommended an oil company that recently locked up a $13.8 billion acquisition.
The oil stock we're talking about recently jumped 6.2%. After the acquisition finalizes, it will be one of the biggest infrastructure players in the energy sector...
What are your thoughts on the Plains All American oil spill? Talk to us on Twitter at @AlexMcGuire92 and @moneymorning.
Bonus Content: Tom Gentile has been named "America's #1 Trader" for more than a decade now. That's because he's taught over 300,000 people how to build wealth through simple trading techniques. Here's how to get his free report - including a double-digit profit move you can make today...