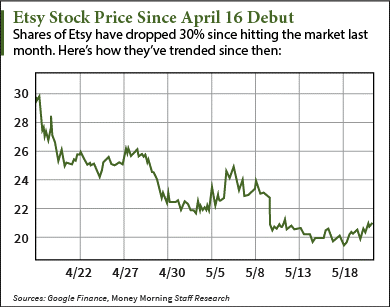 The Etsy Inc. (Nasdaq: ETSY) IPO exploded out of the gate last month.
The ETSY stock price was $31.86 when ETSY started trading on the Nasdaq April 16. That's a huge 99% pop from its $16 IPO price. Etsy settled the day at $30 a share.
Since the IPO, the Etsy stock price has fallen dramatically. It has tumbled 30% in a little more than a month and closed at $21 a share yesterday (Tuesday).
The e-commerce company hit a milestone yesterday when it reported its first quarterly earnings as a public company. Here's a rundown of Etsy's first-quarter numbers, and how they contributed to Etsy stock's tumble...
How Has the Q1 Earnings Report Affected the ETSY Stock Price?
First, the good news in the Etsy earnings report...
Revenue of $59 million was up 44.4% from $40.5 million in Q1 2014. Etsy posted earnings of $6.7 million for the first three months of 2015 - a 9.3% increase from $6.1 million in Q1 2014. Its sales of $58.5 million was slightly above Wall Street estimates of $58 million.
Overall activity on the site jumped significantly from the first quarter last year. The number of active sellers increased 25.8% from 1,135 to 1,428. Active buyers increased 36.5% from 15,260 to 20,837.
But, Etsy posted a loss of $0.84 per share.
Costs were up, too. Total operating expenses were up $42.7 million in the first quarter. That marks a 72.6% increase from the same period last year. The costs came from marketing, increased hiring, and product development expenses.
The good wasn't enough to outweigh the EPS loss. Etsy stock price responded horribly to the earnings report. Shares plummeted more than 19% to $17 in after-hours trading.
The company's mixed earnings raises the question...
With the ETSY Stock Price Down 19%, Is ETSY Stock a Buy?