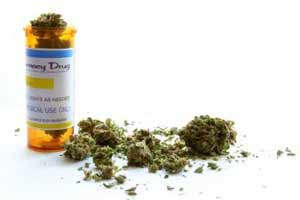 Investors are eyeing up potential marijuana stock winners like Cannabis Science (CBIS) stock as the industry explodes - but a lot of these picks are not worth the money...
The marijuana industry generated $2.7 billion in revenue in 2014, according to ArcView Market Research. That was a 74% year-over-year increase in combined retail and wholesale sales. The hefty spike easily established the cannabis industry as the fastest-growing business in America.
Legal adult use sales launched for the first time in 2014 in Colorado and Washington. Two more states and Washington, D.C., approved adult use measures last year. Three states approved new medical use laws. And 11 states passed laws allowing limited distribution of cannabidiol products for medicinal uses.
Five states now boast marijuana markets greater than $100 million. In Colorado alone last year, legal marijuana was a $700 million industry.
According to MSNBC, Denver now boasts more than 300 dispensaries.
All this market movement has made pot stocks like CBIS stock and Growlife (PHOT) stock become popular among investors.
But as we warned in February, a lot of these new pot stocks are not good for investors.
Some are scams, while others are just too new to invest in with confidence.
Here's why CBIS stock is among those to avoid...
Stay Away from Cannabis Science (CBIS) Stock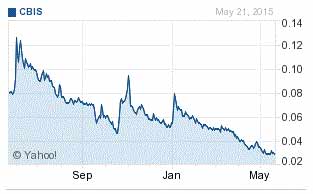 Cannabis Science Inc. (OTCMKTS: CBIS) develops cannabinoid-based therapies to treat autism, high blood pressure, and other illnesses. The Colorado Springs, Colo.-headquartered company maintains its immediate focus is to treat cancer.
Its main focus, however, should be its massive cash burn.
CBIS's latest annual report, filed a week late on April 21, revealed the company had just $10,000 in cash.
Current assets totaled $166,000. Current liabilities, meanwhile, stood at a whopping $3.96 million. Revenue came in at $1,031, while its net loss was $16.88 million.
Shares have traded between $0.03 and $0.13 over the last 52 weeks. The stock currently changes hands at its low of $0.03. Shares are down 45.19% year to date.
It's actually interesting CBIS stock still trades.
Still, interest in pot penny stocks like CBIS is nothing new. Heightened interest in the sector prompted the Securities and Exchange Commission (SEC) to issue new warnings about "possible scams involving marijuana-related investments."
In May 2014, the SEC noted fraudsters often exploit the latest growth industry to lure investors with promises of high returns.
"We know from experience that fraudsters follow the headlines," the SEC said in a statement.  "Given the attention that marijuana-related companies have attracted recently, we urge investors to exercise caution when looking at investments in this space.  Always thoroughly research the company - and the person selling the investment - before making a decision."
A decision regarding a CBIS investment is easy. This is one stock to steer clear of.
For a list of other pot stocks to avoid, go here.
Don't get trapped by a bad stock - stay up-to-date on all investment news @moneymorning on Twitter.
Related Articles: