No Snapchat IPO date has been set yet, but yesterday (Tuesday) the company's 24-year-old CEO Evan Spiegel announced his plans to take the firm public.
Speaking at the Code Conference in Los Angeles, Spiegel said he will reject any acquisition offers for Snapchat. He didn't offer many specifics for the Snapchat IPO, but said the firm "had a plan" for going public.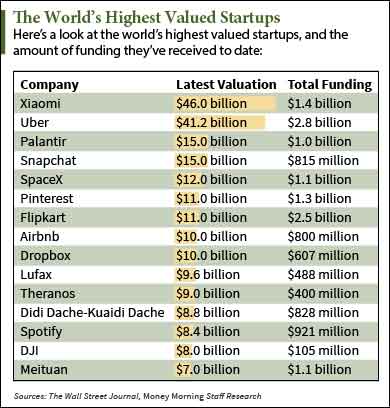 This was the first time any company officials have mentioned a Snapchat IPO. It famously spurned a $3 billion takeover bid from Facebook Inc. (Nasdaq: FB) in November 2013.
Snapchat currently has a valuation of $15 billion after receiving more than $815 million in equity funding. That makes it the fourth highest-valued startup in the world. At the end of 2014 it had been valued at $10 billion.
But those valuations should not be taken at face value. Spiegel himself admitted that tech companies are being overvalued, saying he thinks there will be a correction.
How Does Snapchat Work?
Snapchat was first released in 2011. It originally allowed users to send pictures, messages, videos, and drawings to a controlled list of friends. It was part of a wave of messaging apps like WhatsApp, Tango, HeyTell, and countless others that provided users alternate ways to send and receive messages.
But what makes Snapchat special is its delivery method. Messages sent over Snapchat completely disappear once they have been viewed for between one and 10 seconds.
Since its introduction, numerous imitators have popped up that include the disappearing message feature. But Snapchat remains the biggest name.
The company has not revealed any revenue figures, but it did say it has more than 100 million daily active users. Roughly 65% of those users send disappearing messages or "snaps" every day.
More than 50% of Snapchat's users are between the ages of 13 and 17. The average user accesses the app 14 times per day, according to research by Digiday.
But the most important factor for Snapchat as it prepares for its IPO is demonstrating that it can generate solid revenue.
And with its recent push into advertising, the company is trying to prove just that...
Boosting Revenue Is a Must Before the Snapchat IPO Date
In January, the company made a big move by unveiling "Snapchat Discover."
Discover lets users browse different multimedia offerings from companies like ESPN, CNN, Cosmopolitan, Comedy Central, and Yahoo! News, among others. The user can click a media outlet and view videos, pictures, and infographics. Users can access new information every day from these outlets.
[epom key="ddec3ef33420ef7c9964a4695c349764" redirect="" sourceid="" imported="false"]
But the most important factor for investors is Discover's advertising model.
The new service sells advertising within these multimedia options. For instance, clips of various Comedy Central shows are presented by McDonald's Corp. (NYSE: MCD).
With this service, Snapchat officials also believe they can become more of a media company. They describe Discover as offering "full screen photos and videos, awesome long form layouts, and gorgeous advertising."
And the company's young user base makes the app particularly attractive to advertisers.
Detractors say Snapchat's users just want to message on the app. However, Facebook Inc. (Nasdaq: FB) has already shown how a social media company can transition from a simple communication tool for friends into a massive multimedia company.
For now, building Snapchat Discover and the company's revenue stream is the most important factor before the Snapchat IPO date. Since we have no clue what the company's revenue, profits, or margins look like, it's still too early to make a judgment on Snapchat stock.
We'll get a good idea of these figures when the company officially files for its IPO.
Keep checking back with Money Morning for more updates on Snapchat stock as the Snapchat IPO date approaches.
The Bottom Line: No Snapchat IPO date has been set, but CEO Evan Spiegel has announced his plan to take the company public in the near future. Snapchat is in the process of expanding beyond just a messaging service and has begun offering multimedia options with advertising. But before analyzing the value of Snapchat stock, we'll need to learn about the company's revenue and profitability from its IPO filings.
Follow me on Twitter: @KyleAndersonMM
Double Your Money on the World's Most Valuable Company: Money Morning's Tom Gentile has found one small move that can help you make a 100% profit on a popular stock, all within the next 27 days. Here's how you can find out the step-by-step process to doubling your money...