International Business Machines Corp.'s (NYSE: IBM) dividend yield is a healthy 3% right now. And what's more, IBM has raised its dividend every year for 19 consecutive years.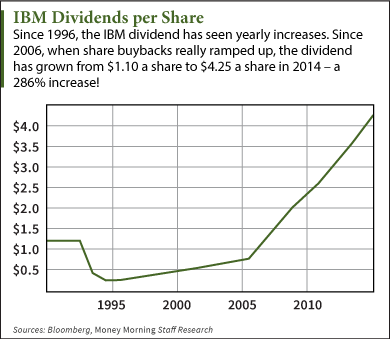 While IBM as a company is struggling to find its identity in a fast-moving IT landscape - and the IBM stock price has yet to reclaim its March 2013 highs of $207.54 - some investors buy IBM as a good dividend income play.
But if you're thinking of buying IBM stock for that IBM dividend payout, you may want to reassess.
In fact, a closer look shows why the IBM dividend is vulnerable...
When IBM Stock Trouble Started...
Big Blue's struggles have been laid bare since 2013, when it lost a bid to handle cloud services for the Central Intelligence Agency in 2013 to Amazon.com Inc. (Nasdaq: AMZN).
Sales have been falling in legacy businesses. For most of its history, IBM was the technology hardware company.
But in 1993, then-CEO Lou Gerstner stepped in and recast the company's role primarily as an IT servicer. IBM was to provide the full life-cycle of the IT solution, from acquisition of products, to servicing, to maintenance, and even to disposal of hardware.
Gerstner's move from enterprise tech hardware to primarily services was a seismic shift for IBM. But right now, IBM may need another one to reorient itself in a race to dominate IT that is fast slipping away from the 103-year-old technology company.
A big part of IBM's problems right now comes back to the shareholder-first mentality.
As new enterprise tech needs were evolving coming into the new millennium, such as the emerging of cloud computing, growing cybersecurity threats, and the explosion of mobile, IBM was caught sitting on its hands.
IBM opted to massage its numbers to draw investors to IBM stock, as opposed to taking up the mantle on one of these big tech trends.
And to buy IBM stock right now strictly for that IBM dividend would have you falling into the same trap that has hampered IBM management over the past decade...
Why the IBM Dividend Isn't Enough to Buy IBM Stock
IBM stock is, historically, a very shareholder-friendly investment. Since 1995, the year after IBM shares outstanding peaked at 2.35 billion, IBM went on what has turned out to be a 20-year stock buyback spree.
Shares outstanding have fallen from that 2.35 billion figure to its most recent number of 984.7 million shares.
From 1995 to 2014, IBM has spent more than $180 billion to repurchase 1.5 billion shares. While Gerstner may have changed IBM's focus to IT services, he also embarked on a financial gambit that his successor, former CEO Sam Palmisano, doubled down on to pursue lofty and, frankly, overly ambitious shareholder goals.
From 2003 to 2011, under Palmisano, IBM buybacks totaled about $95 billion for the repurchase of 860 million shares. He effectively accelerated the repurchasing program that Gerstner first began.
In 2005, Palmisano promised to deliver an earnings per share (EPS) of $10. He delivered an $11.52 EPS almost entirely through buybacks. From 2003 to 2010, IBM repurchased 771.8 million shares of IBM stock.
Without these share repurchases, IBM's EPS would have been somewhere around $7.20. You could be sure that if Palmisano came up short, IBM stock would have been devastated, instead of growing nearly 160% in his tenure.
When Palmisano departed at the end of 2011, he left a legacy that ended up bounding the new CEO Virginia "Ginni" Rometty's hands. In 2010, he pledged that IBM would hit a $20 EPS.
Rometty has attempted a similar financial engineering game, buying back 205.5 million shares from 2012 to 2014 for $39.6 billion. But on Oct. 20, 2014, Rometty saw the fruitlessness of this overly optimistic pledge and abandoned it. The stock plunged 7.1% on the day. And it was not until this past month that IBM stock was back to trading where it was on Palmisano's last day as CEO on Dec. 31, 2011.
This is good and bad.
It's good because Rometty may well be learning that the way into the future for IBM is not unattainable shareholder goals aimed at artificially boosting the IBM stock price. Instead, IBM needs to focus on big investments in cloud computing, Big Data, cybersecurity, and mobile enterprise solutions.
[epom key="ddec3ef33420ef7c9964a4695c349764" redirect="" sourceid="" imported="false"]
It's bad though because we don't know just what else IBM will have to sacrifice to make the proper investments. It's also unknown at this point just how deep the crisis is for IBM. IBM has all but lost the cloud fight to much more superior players in Amazon, Google Inc. (Nasdaq: GOOG, GOOGL) and Microsoft Corp. (Nasdaq: MSFT).
Cloud is merely a move for IBM's survival, not an area that Big Blue can really shake up the market share. The other growth initiatives outside of cloud - analytics, mobile, security, and social - have yet to mature enough to give us a good sense of how IBM will monetize them.
Is IBM in trouble? It certainly is, though it's tough to say just how much. The last time the company reinvented itself and emerged from crisis in 1993, then-CEO John Akers was fired and the IBM dividend was cut from $1.21 a share in 1992 to $0.40 in 1993.
Is IBM's current quandary going to necessitate these kinds of similar measures? That's what an investor looking at the IBM dividend will need to consider.
Bottom Line: The IBM dividend yield of about 3% may look nice right now, and IBM stock has been on a rebound, but the future is far from known. IBM is still waiting for one of its growth initiatives to take off in a meaningful way - at least enough to make up for the decline it its legacy initiatives. Rometty has made some progress in refocusing IBM, but part of doing that involved abandoning a shareholder-friendly EPS pledge. The concern now is that the crisis could become so deep that Rometty will have to further abandon IBM's shareholder-friendly policies, and that could include a slowing in the growth to the IBM dividend - or even a cut.
Jim Bach is an Associate Editor at Money Morning. You can follow him on Twitter @JimBach22.
Still Looking for Tech Stocks to Buy? With IBM now out of the picture as the premier tech investment, you may be wondering where else you can look to get a piece of what is still a fast-growing sector. Here's where you can get started...