International Business Machines Corp.'s (NYSE: IBM) dividend yield is a healthy 3% right now. And what's more, IBM has raised its dividend every year for 19 consecutive years.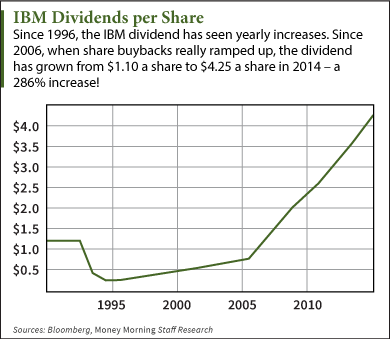 While IBM as a company is struggling to find its identity in a fast-moving IT landscape - and the IBM stock price has yet to reclaim its March 2013 highs of $207.54 - some investors buy IBM as a good dividend income play.
But if you're thinking of buying IBM stock for that IBM dividend payout, you may want to reassess.
In fact, a closer look shows why the IBM dividend is vulnerable...
When IBM Stock Trouble Started...
Sign up for SMS so you never miss special events, exclusive offers, and weekly bonus trades.
Big Blue's struggles have been laid bare since 2013, when it lost a bid to handle cloud services for the Central Intelligence Agency in 2013 to Amazon.com Inc. (Nasdaq:
AMZN
).
Sales have been falling in legacy businesses. For most of its history, IBM was the technology hardware company.
But in 1993, then-CEO Lou Gerstner stepped in and recast the company's role primarily as an IT servicer. IBM was to provide the full life-cycle of the IT solution, from acquisition of products, to servicing, to maintenance, and even to disposal of hardware.
Gerstner's move from enterprise tech hardware to primarily services was a seismic shift for IBM. But right now, IBM may need another one to reorient itself in a race to dominate IT that is fast slipping away from the 103-year-old technology company.
A big part of IBM's problems right now comes back to the shareholder-first mentality.
As new enterprise tech needs were evolving coming into the new millennium, such as the emerging of cloud computing, growing cybersecurity threats, and the explosion of mobile, IBM was caught sitting on its hands.
IBM opted to massage its numbers to draw investors to IBM stock, as opposed to taking up the mantle on one of these big tech trends.
And to buy IBM stock right now strictly for that IBM dividend would have you falling into the same trap that has hampered IBM management over the past decade...
Why the IBM Dividend Isn't Enough to Buy IBM Stock