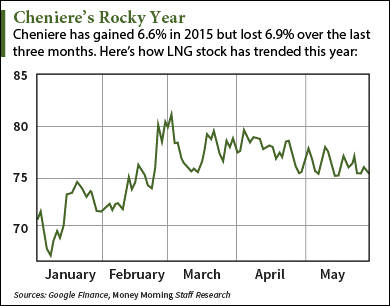 Last year was a big one for Cheniere Energy Inc. (NYSEMKT: LNG) news.
In late December, Cheniere received Energy Department approval to export liquefied natural gas. This marked the first time the federal government approved an export project in more than 40 years.
That's why this year's sell-off in LNG stock surprised some investors.
LNG stock started 2015 off strong despite falling natural gas prices. In January, LNG shares traded up 1.4% while natural gas fell 6.6%. LNG skyrocketed the following month, gaining 13% between Jan. 30 and Feb. 27.
But Cheniere stock gradually sold off once March rolled around. It fell 4% that month and has tumbled 2% in the second quarter so far. It currently trades near $75 a share.
So what does this LNG stock news mean for investors? Let's take a look at the long-term picture for Cheniere...
More Bullish Cheniere (LNG) News on the Way
Now that liquefied natural gas export regulations are loosened up, the United States is expected to provide 8% to 12% of worldwide LNG exports over the next five years.
"The idea of U.S. natural gas exports is so strong and unstoppable, it has the power to change the world," Money Morning Global Energy Strategist Dr. Kent Moors commented on the LNG news. "It's the result of one of the biggest reversals of fortune I have ever witnessed."
Cheniere will be leading U.S. export projects. The company is currently in the process of turning import facilities into export facilities. Once that's finished, Cheniere will be processing more than 1 billion cubic feet of natural gas every day. Its two Texas terminals - Sabine Pass and Corpus Christi - are expected to become fully operational early next year.
Cheniere's export operations show huge growth potential, which is bullish for LNG stock despite its recent volatility.
All of this LNG news begs the question...
Should I Buy Cheniere (LNG) Stock?