Remember the E*TRADE baby commercials?
I used to love those ads, especially the first one I saw in 2010, but I was convinced when I saw E*TRADE Financial Corp. (NASDAQ: ETFC) running them on that Super Bowl Sunday that they were throwing another "Hail Mary" pass. Fittingly for a commercial spot during a football game, the term indicates a last-ditch, desperate effort to win in the late stages of a game.
The flaw with my reasoning back then was that I had no concept of a commercial going "viral." In fact, I don't think that anyone did at that time. We were barely coming out of one of the worst periods of U.S. history, when banks, mortgages, and real estate failed, seemingly at once.
Today E*TRADE has proven it's anything but desperate, and we're going to pay ourselves handsomely on its rebound....
Each Surge in Share Price Means More Profits for Us
Since I first saw the E*TRADE commercial, our banks have gotten stronger, mortgages are slowly creeping back, and real estate is making a staggered recovery.
And E*TRADE Financial is proving an amazing story. Here's a company that just a few years ago was on the brink of bankruptcy, and yet they were willing to throw $1 million at a 30-second ad that ultimately helped them get back into the brokerage game. Take a look at the chart over just the last two years and see for yourself.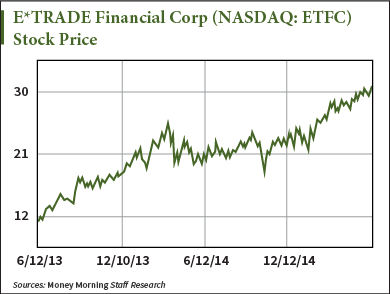 This stock has more than doubled since June 2013. Sure, it took its sweet time catching up with the rest of the financial community, but better late than never, I say!
Now the million-dollar question is will this "baby" move into bigger clothes and, more importantly, a higher stock price?
I believe E*TRADE stock will continue to do well for two reasons.
First, it's one of the bigger firms that still looks at the smaller trading accounts as assets to them. Now don't get me wrong, I love the brokerages such as Charles Schwab Corp. (NYSE: SCHW), TD Ameritrade Holding Corp. (NYSE: AMTD), and Interactive Brokers Group Inc. (NASDAQ: IBKR).
What's cool about all these firms is that, to the naked eye, they're all competing against each other, but each one has its own niche. Schwab looks towards advisory services and bigger accounts, while TD Ameritrade is focusing on the active trader with their Think or Swim (ToS) platform. Then there's Interactive Brokers Group, with some of the lowest commission and margin rates in the business.
But who has the "little guy's" back?
Who has a platform that's not only easy, but seamless for the beginner?
You guessed it: E*TRADE.
The other thing going for E*TRADE as well as the other above firms is that they are great interest rate plays. Nearly every time we see a significant move down in bonds, these stocks react positively.
Look at last week's jobs report. Jobs increased on average, the Dow reacted to the downside, but look at what I'll call our "Interest Rate Defense Stocks." They jumped!

Here's Exactly How to Play This Stock's Moves
Join the conversation. Click here to jump to comments…
About the Author
Tom Gentile, options trading specialist for Money Map Press, is widely known as America's No. 1 Pattern Trader thanks to his nearly 30 years of experience spotting lucrative patterns in options trading. Tom has taught over 300,000 traders his option trading secrets in a variety of settings, including seminars and workshops. He's also a bestselling author of eight books and training courses.