Readers: This article is a follow-up to Shah's original recommendation on how to make a killing with the imminent bond market crash.
A little over a week ago, I recommended shorting the iShares PLC Markit iBoxx Euro High Yield Bond ETF (LON: IHYG).
Several readers wrote in to say that "not every brokerage lets you buy this." Some do, in fact: In this day and age, many brokerages let you buy any shares, anywhere. But for those of you whose brokerages won't let you, I want to give you an alternative.
We want a trade that gives us the exposure we want, which is a bet on falling bond prices – both sovereign and corporate – across Europe.
It's hard to find an exchange-traded fund (ETF) that gives us this type of exposure. Some of the instruments that come close don't have the liquidity we need to be able to get in and out easily.
And the rest don't fit the trade profile we want.
However, there's another way to play falling bond prices across Europe…
Averaging Up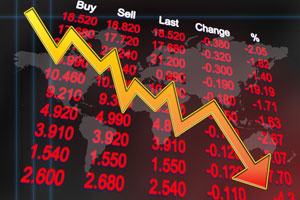 If bond prices fall, banks and financial institutions holding them will take a tumble, too.
So, if you want exposure to falling European bond prices, I recommend shorting the iShares Trust iShares MSCI Europe Financials ETF (Nasdaq: EUFN).
My recommendation would be to short EUFN here at $23.25 or higher. Personally, I have a high tolerance for risk (that's because I have the capital to risk), so I would short an equal additional amount at $24.50, more at $25.50 and more at $26.50, which is the ETF's 52-week high.
If you "average up" on this short, you'd be short at an average price of $25. I'd cover my shares at $27.50 if the ETF makes a new high there. I'd accept a 10% loss – with a frown, for sure. But a 10% loss is acceptable to me.
Another way to play a drop in this ETF would be to buy these…
Join the conversation. Click here to jump to comments…
About the Author
Shah Gilani is the Event Trading Specialist for Money Map Press. In Zenith Trading Circle Shah reveals the worst companies in the markets - right from his coveted Bankruptcy Almanac - and how readers can trade them over and over again for huge gains.Shah is also the proud founding editor of The Money Zone, where after eight years of development and 11 years of backtesting he has found the edge over stocks, giving his members the opportunity to rake in potential double, triple, or even quadruple-digit profits weekly with just a few quick steps. He also writes our most talked-about publication, Wall Street Insights & Indictments, where he reveals how Wall Street's high-stakes game is really played.