The pre-IPO Fitbit valuation is $3.7 billion. The wearable tech company's IPO will raise $621 million by selling 29.85 million shares.
So how does the Fitbit valuation compare to other popular tech IPOs that have hit the market in the last year and a half?
This chart shows the pre-IPO valuations of the biggest tech deals since Jan. 2014: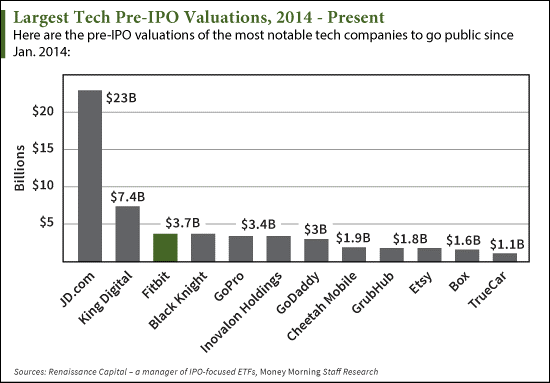 The chart does not include Alibaba Group Holding Ltd.'s (NYSE: BABA) $175.5 billion valuation. The Chinese e-commerce behemoth dwarfed other tech IPOs in September 2014 when it became the largest U.S. IPO of all time by raising $21.8 billion.
Without Alibaba, the Fitbit valuation ties Black Knight Financial Services Inc. (NYSE: BKFS) as the third most valuable tech IPO since the start of 2014.
Fitbit's valuation is more than the combined valuations of Chinese marketing firm Cheetah Mobile Inc. (NYSE ADR: CMCM), cloud provider Box Inc. (NYSE: BOX), and automotive website TrueCar Inc. (Nasdaq: TRUE). It's double the valuations of Etsy Inc. (Nasdaq: ETSY) and GrubHub Inc. (NYSE: GRUB).
Fitbit's market value is high because it's one of the few tech companies that is profitable before going public.
Product sales have grown from $14.5 million in 2011 to $745.2 million in 2014. That's growth of more than 5,000% in just three years. The company also swung from a loss of $4.3 million to a profit of $131.8 million over the same time.
Fitbit's huge returns are a direct result of its dominant market share. In the first quarter, Fitbit's products made up 85% of fitness-related wearable tech devices in the United States. Research firm NPD Group reported Fitbit has sold a total of 20.8 million devices as of March 31.
But despite those healthy figures, there's another company that has the largest influence on the Fitbit share price…
Here's more on the Fitbit IPO and which tech firm threatens FIT stock's long-term performance…
I will be live tweeting the Fitbit IPO tomorrow. Follow me on Twitter at @AlexMcGuire92 for constant updates on FIT stock's debut.
More on Fitbit Stock: Fitbit is the most promising tech IPO of the year so far. Its trendy products and strong profitability make it stand out from recent IPOs like Etsy and GoDaddy. But should you invest in Fitbit stock?