Two top pharmaceutical companies announced a merger this morning, continuing 2015's massive run of M&A activity.
Botox maker Allergan Plc. (NYSE: AGN) announced today that it will purchase Kythera Biopharmaceuticals Inc. (Nasdaq: KYTH) for $2.1 billion. That values KYTH shares at $75 each - 24% higher than Tuesday's closing price.
KYTH stock jumped to $74.30 in early trading Wednesday. AGN shares climbed 0.6% to $301.40 in early trading.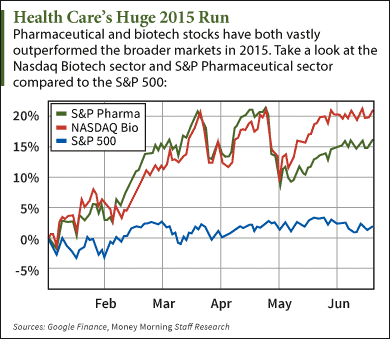 The biggest reason these top pharmaceutical companies are merging is Kythera's newest product, Kybella. It's an injection that eliminates "double chin," or unwanted fat in the chin/neck area. Kybella is expected to reach the market shortly.
Company officials are unsure of Kybella's full potential because it's a brand new market. Kythera's CEO Keith Leonard previously stated the product will be aimed at patients who already receive Botox treatments. That makes Allergan the perfect company to partner with.
This morning's deal is just the latest in this year's massive healthcare M&A market.
According to PricewaterhouseCoopers, the "life sciences" field had 35 M&A deals in Q1 2015. The life sciences industry is made up of pharmaceuticals, medical devices, biotech, diagnostics, and contract-research organizations.
Those deals totaled $166.3 billion. That's more money than was spent during all of 2014, which saw M&A activity total $150.1 billion. In Q1 2014, just $46.5 billion was spent.
It's a trend that Money Morning Defense & Tech Specialist Michael A. Robinson saw coming, even when Wall Street "experts" called the M&A market dead in late 2014.
And the spending won't stop anytime soon.
Top pharmaceutical companies go on the hunt for smaller firms when their older patents are about to expire. Instead of developing their own drugs - which can take up to 10 years and $1 billion - they buy other companies with new drugs.
"M&A deals will remain a big driver for the whole healthcare industry," Robinson said in February. "The pickup in M&A activity will translate into healthy bonuses for bankers and lawyers, certainly, but it will also continue accelerate stocks in the biotech and pharmaceutical sectors way past the overall market."
In early 2015, Robinson found an investment that taps into this shopping spree of the top pharmaceutical companies. It's already gained 16.7% and will continue climbing from here...