There's a lot being written about the Greek debt crisis right now. It's scary, it's problematic, and, for the most part, almost totally unusable for the average investor.
That's completely unacceptable as far as I'm concerned.
So I thought we'd take a good hard look at what you actually need to know, then move on to three tactics that can help you capitalize on the situation. And I don't just mean by single digits, either.
The last time we saw this crisis-driven setup, savvy investors who followed along had the opportunity to take home returns of at least 245% by jumping a stock that would thrive under the circumstances.
Here's what you really need to know.
Greek Debt Crisis Headlines Add to Horror AND Set Up Your Opportunity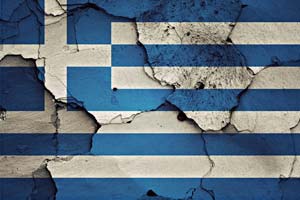 There's no doubt the headlines are scary. I took a quick spin across the Internet a few moments ago and this is just a fraction of what popped up:
Europe Is Urged to Prepare for Greek Default as Stances Harden on Debt Deal - The New York Times
Greece on "Brink of Disaster" as Talks Fail Yet Again - CNBC.com
Greece Crisis: PM Blasts "Criminal IMF" in Defiant Speech - The Guardian
Blah, blah, blah.
Keep in mind that the mainstream media's real job is to sell sensationalism and that the Internet simply exacerbates the situation by creating a digital feeding frenzy of sorts.
A little perspective goes a long way, especially now.
Consider: Apple's valuation of $735 billion is more than triple Greece's entire annual GDP of approximately $240 billion. Exxon brings in 10 times more cash in revenue than the Greek economy creates in a year. Letting Greece go would be for the EU what letting the Florida Keys go bankrupt would be for America's $17 trillion economy - an unpleasant hit for anybody who lives there, but by no means a game changer in the long term.
Second, the ECB has been preparing for exactly this contingency for months, despite the fact that politicians have been jawboning about solutions and agreements incessantly. Chances are they've done their homework at this point.
The European Stability Mechanism intended to backstop a Greek default is in place. Whether Greece leaves or gets kicked out really doesn't matter at this point. The country lied about its finances to get in, terribly mismanaged things along the way, and, in reality, has done very little to pay back what it owes. Speaking very plainly, it's not like there's a cash spigot that's suddenly going to get turned off.
And, third, Greece is still going to be part of the EU even if it leaves the euro. That means the nation will be eligible for "balance of payment" assistance from Brussels just like Latvia and Hungary, for example.
Locally, here's what will happen on the ground, though.
Join the conversation. Click here to jump to comments…
About the Author
Keith is a seasoned market analyst and professional trader with more than 37 years of global experience. He is one of very few experts to correctly see both the dot.bomb crisis and the ongoing financial crisis coming ahead of time - and one of even fewer to help millions of investors around the world successfully navigate them both. Forbes hailed him as a "Market Visionary." He is a regular on FOX Business News and Yahoo! Finance, and his observations have been featured in Bloomberg, The Wall Street Journal, WIRED, and MarketWatch. Keith previously led The Money Map Report, Money Map's flagship newsletter, as Chief Investment Strategist, from 20007 to 2020. Keith holds a BS in management and finance from Skidmore College and an MS in international finance (with a focus on Japanese business science) from Chaminade University. He regularly travels the world in search of investment opportunities others don't yet see or understand.