A Jim Rogers gold prediction is taken seriously by investors.
And today (Friday) we got a fresh Jim Rogers gold prediction courtesy of a MarketWatch interview.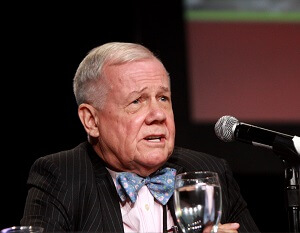 "Gold is in a correction, and the correction has gone on for four years," Rogers said. "Although I am not buying gold, I am expecting an opportunity to buy gold sometime in the next year or two. For instance, if gold goes under $1,000, I hope I'm smart enough to buy a lot more gold."
When Jim Rogers speaks, he is taken seriously by investors – and for good reason.
He achieved legendary Wall Street status with The Quantum Fund, which he and partner George Soros founded in 1970.  It's often described as the first real global investment fund.
Over the next decade, The Quantum Fund gained 4,200%, while the Standard & Poor's 500 Index climbed about 50%. After he "retired" from Wall Street in 1980, he predicted the meteoric growth of China, as well as the rise of commodities.
Rogers is known as one of the yellow metal's biggest fans – but he has a realistic outlook on what affects its price.
"Part of the problem is that many people consider gold to be holy. They are mystical about it. Some mystics are surprised that gold goes down at all," Rogers told MarketWatch.
Rogers has no such illusions. That gold price figure of under $1,000 is based on a long-standing expectation that the gold correction could end up as much as 50% of the $1,885 peak in August 2011.
At about $1,173 an ounce, gold is currently down about 38% from that peak.
Jim Rogers' gold outlook is mostly based on history and trends. He told MarketWatch that a 50% correction in a commodity is "normal."
And he told Money Morning in 2013 that the correction was far from over…