On June 16, lightning rod entrepreneur Donald Trump became the twelfth Republican to announce candidacy for his party's nomination in the 2016 U.S. presidential election.
The move thrust the multibillionaire's finances into the spotlight -- Trump fired off this Tweet the same day: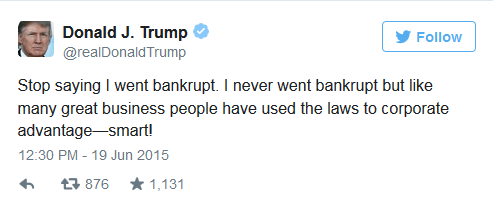 You see, Donald Trump's net worth currently stands at $4.1 billion, according to a June 18, 2015, Forbes estimate.
Yet Trump has filed for bankruptcy in the past -- multiple times.
The Donald Trump bankruptcy count is as follows:
Zero personal
Four corporate
The strength (or weakness) of Trump's financial track record going into the 2016 election comes down to the difference between these two types of bankruptcies.
Let's take a look...
Donald Trump Bankruptcy: Personal vs. Corporate Bankruptcy
Bankruptcy is a tool that allows debtors relief from their debt when they cannot pay it back. Through bankruptcy, a debtor can get a "financial fresh start."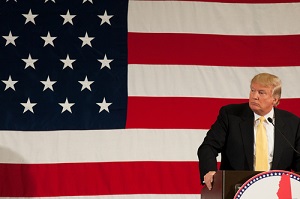 However, there are six different types of bankruptcy under the Bankruptcy Code (the federal laws of U.S. bankruptcy): Chapters 7, 9, 11, 12, 13, and 15. These chapters mainly differ in terms of who the debtor is. For example, farmers and fisherman can file for debt relief under Chapter 12 bankruptcy. Municipalities can file for Chapter 9 bankruptcy.
When it comes to the issue of Donald Trump's bankruptcy, we are only concerned with Chapters 7 and 11.
That's because a Chapter 7 filing is indicative of poor financial management skills on behalf of the debtor -- a red flag for voters evaluating a presidential candidate. But a Chapter 11 filing doesn't necessarily indicate poor management. In fact, it can be seen as a tool that improves a company's value for investors.
Here's the difference:
Chapter 7 bankruptcy: Allows an individual to be freed of most debt in exchange for a ruined lined of credit for 10 years.
Chapter 11 bankruptcy: Allows a corporation to stay in business while it restructures its business and attempts to reduce its debt.
When Trump tweeted, "I never went bankrupt," he was being truthful. The real estate magnate has kept good order of his personal finances.
You see, all four of Donald Trump's bankruptcies were the Chapter 11 type. Each resulted from over-leveraged casino and hotel properties in Atlantic City.
"I've cut debt -- by the way, this isn't me personally, it's a company," Trump clarified to Forbes in April 2011. "Basically I've used the laws of the country to my advantage and to other people's advantage just as Leon Black has, Carl Icahn, Henry Kravis has, just as many, many others on top of the business world have."
Trump emphasized that many "great entrepreneurs" have used bankruptcy to restructure debt, free up capital, and improve their businesses.
Reed Smith partner Michael Venditto, who has represented clients in high-profile Chapter 11 cases (including bankrupt airline TWA), added in the same article that "to the ordinary person in the street, [four corporate bankruptcies] may seem surprising, but certainly not to me. Chapter 11 is how you reshape and restructure a company that has problems. It doesn't indicate anything nefarious or even bad management."
Here's a look at each of Trump's four corporate bankruptcy filings...