Today I'm setting you up with five ways to profit from the Greek Debt Crisis and any other sell-offs that come along.
The market swoons and soars we've seen over the past couple of weeks are part of a long-term trend.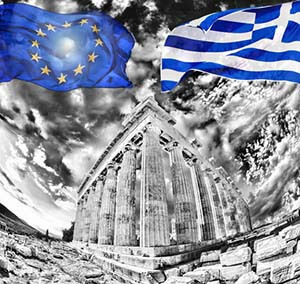 Just in the last week, we saw enormous battles between the bulls and the bears as a bevy of market "pundits" tried to factor in what the dramas in Greece and China will mean for the markets.
So today, I'm going to lay out five fundamental portfolio-management tools that you can use to make money no matter what happens in the market – to make what I like to call "volatility profits."
The first one puts you in charge.
Volatility Profit Tool No. 1: Buy Test Shares
This strategy puts two powerful tools to work in one simple move. When markets are choppy, rather than making your normal entry in a position, you start with just a few "test shares."
By doing so, you greatly reduce your risk and can determine if the timing is right for the play. After all, getting the timing right is hard in volatile markets.
We're making sure we're set for any sudden rallies and at the same time reducing our risk of losses.
Here's how buying test shares works. Let's say your standard market order for a stock is $2,500. Instead, you would cut that to as little as $500. That way if either the stock or the market retreats quickly, your portfolio won't suffer much damage.
But at the same time, if the stock starts to move quickly, you can always add to your position over time.
Volatility Profit Tool No. 2:  Use Stop Losses
There are two ways to employ these essential portfolio tools. The first is a stop loss that protects against losses getting too deep on a new entry. I suggest a stop loss of no more than 20%.
This is a classic tool designed to avoid suffering any catastrophic losses. I always set my stops on what's known as a "good until canceled" basis, which means having a 60-day stop in place.
The second method is a "trailing stop" used to protect gains. This is one that moves up as the price of the stock advances. Use the same 20% figure in this manner.
Let's say you bought a stock at $15 that's gone up by 66% to $25. A 20% trailing stop gets you out at $20. That way you make profits of 33% no matter what happens.
Join the conversation. Click here to jump to comments…
About the Author
Michael A. Robinson is one of the top financial analysts working today. His book "Overdrawn: The Bailout of American Savings" was a prescient look at the anatomy of the nation's S&L crisis, long before the word "bailout" became part of our daily lexicon. He's a Pulitzer Prize-nominated writer and reporter, lauded by the Columbia Journalism Review for his aggressive style. His 30-year track record as a leading tech analyst has garnered him rave reviews, too. Today he is the editor of the monthly tech investing newsletter Nova-X Report as well as Radical Technology Profits, where he covers truly radical technologies – ones that have the power to sweep across the globe and change the very fabric of our lives – and profit opportunities they give rise to. He also explores "what's next" in the tech investing world at Strategic Tech Investor.