Many Wall Street predictions show tepid returns across all markets for the rest of 2015, so we're recommending a tech investment for the rest of the year.
The play is the SPDR Technology ETF (NYSE Arca: XLK). It's a great stock to buy because it offers a profit play on the entire tech sector.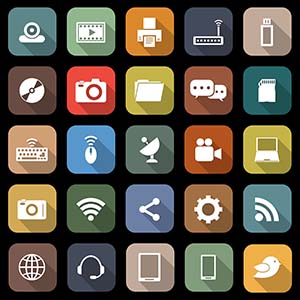 You see, S&P 500 companies are expected to report a 4.4% decline in profits this quarter, according to estimates compiled by FactSet. That would mark the first year-over-year decrease in earnings since Q3 2012 when earnings dipped 1%. It would also be the largest quarterly decline since Q3 2009 when profits sank nearly 16%.
But that doesn't mean all markets will be hit hard.
According to Money Morning Defense & Tech Specialist Michael A. Robinson, "if you want to make serious money in the stock market, you have to be invested in high tech."
Robinson, who spent more than 35 years analyzing and investing in Silicon Valley, says you can't simply throw a dart at the tech-centric Nasdaq Composite Index and expect a profitable play. Indeed, some 3,100 companies make up the Nasdaq.
Robinson has, however, found an investment "you should add to regularly and never sell."
That investment is the Technology Select Sector SPDR Fund (NYSE Arca: XLK).
Why We Recommend the SPDR Technology ETF Now
XLK provides vast exposure to the best companies in tech, as well as small- and mid-cap players in key industries ranging from cloud computing to solar. It has $12.85 billion in assets and trades near $44 per share.
"The whole point of this ETF is to use it as a foundational play that focuses on high tech but that offers diversification within its holdings," Robinson said in May.
The SPDR Technology ETF also provides professional management, trading flexibility, low costs, operational transparency, and tax benefits.
Among its 74 holdings are Apple Inc. (Nasdaq: AAPL), Microsoft Corp. (Nasdaq: MSFT), Verizon Communications Inc. (NYSE: VZ), AT&T Inc. (NYSE: T), Facebook Inc. (Nasdaq: FB), Google Inc. (Nasdaq: GOOG, GOOGL), International Business Machines Corp. (NYSE: IBM), Cisco Systems Inc. (Nasdaq: CSCO), and Visa Inc. (NYSE: V).
Additional holdings include gaming software company Electronic Arts Inc. (Nasdaq: EA), data storage firm SandDisk Corp. (Nasdaq: SNDK), and solar energy solutions provider First Solar Inc. (Nasdaq: FSLR).
Shares have returned a 5.8% year-to-date gain. In the last year, it has climbed 10.9%. Plus, XLK boasts a 1.84% dividend yield.
The Bottom Line: With many projecting slow growth for the overall stock market in 2015, one of the best places to look for market-beating gains is the tech sector. One of our favorite plays is the SPDR Technology ETF. It's a foundational play that will expose you to the profits of the entire tech field.
Stay informed on what's going on in the markets by following us on Twitter @moneymorning.
Profit Alert: Since Money Morning Executive Editor Bill Patalon launched his Private Briefing program just a few short years ago, he's recommended 192 stocks that have either doubled or tripled in value. The service has completely revolutionized the way people invest. Keep reading to find out more about his extensive research and premium stock picks...
Related Articles: