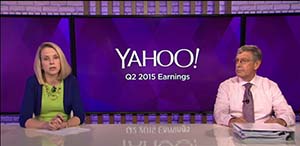 Yahoo stock fell in pre-market trading Wednesday after a mixed Yahoo earnings report.
Yahoo! Inc. (Nasdaq: YHOO) posted a 14.7% increase in revenue, from $1.084 billion in the second quarter of 2014 to $1.243 billion this quarter.
However, traffic acquisition costs surged four-fold to $200.2 million from the year-ago quarter, dampening the bottom line numbers with a loss per share of $0.02. This missed consensus estimates of $0.18 earnings per share.
Just before the opening bell, Yahoo stock had fallen 2% from yesterday's close (Tuesday).
Yahoo CEO Marissa Mayer was quick to point out that the nearly 15% increase in sales was the company's best growth in nearly nine years.
Though she failed to mention that nine years ago, Yahoo revenue was on an upward trajectory.
The last time Yahoo sales had grown 15% year over year, Yahoo was raking in about $1.6 billion.
She also failed to mention that this was the first time Yahoo earnings came out in the red since the financial crisis.
For all the "good" news Yahoo likes to tout, Yahoo earnings this year don't paint a bright picture for this struggling online content giant's – or Yahoo stock's – future under Mayer from here on out…
Yahoo Stock Will Continue to Face Problems Post-Q2 Earnings
None of the progress Yahoo has supposedly made is that impressive.
Yahoo trumpeted its growing search presence. According to StatCounter, in the months after Yahoo forged a partnership with Mozilla FireFox in November 2014 for Yahoo! Search to be the default homepage on their browser, Yahoo's U.S. search share climbed from 8.6% to 10.9%.
In the same time, Google Inc. (Nasdaq: GOOG, GOOGL) search share fell from 77.3% to 74.8%. But that proved to be a high watermark. Yahoo's search share fell to 10.7% in February, likely as a result of FireFox users either leaving the browsing platform or switching the default homepage back to Google.
Mobile revenue grew considerably year to year, from $163 million in Q2 2014 to $252 million, and Mayer seems to think this is groundbreaking.
But Yahoo is growing from zero mobile presence to whatever share of mobile it can grab that Google's more than 90% mobile search share doesn't already own.
Yahoo didn't stumble upon the Holy Grail by creating a mobile presence. Mayer simply identified a very obvious hole in Yahoo's offerings and delivered out of necessity, not because there's a compelling growth story there.
With every supposed accomplishment to come out of Yahoo, either someone else has already done it, or there is little opportunity to monetize it in a meaningful way.