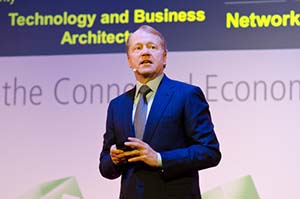 Yesterday (Sunday), Cisco Systems Inc. (Nasdaq: CSCO) officially saw former CEO John Chambers depart from a post he held for more than two decades. In stepped a senior vice president, Chuck Robbins.
This regime change at Cisco isn't going to spark explosive gains in CSCO stock - but CSCO stock isn't going to be hurt by it either.
"I'm encouraged to see they're changing leaders. I think that Chambers has been there a little bit too long," Money Morning Defense & Tech Specialist Michael A. Robinson said.
Chambers was certainly a great creator of shareholder value in his long tenure. Under Chambers, the CSCO stock price experienced nominal growth, with splits included, of almost 1,400%, from $1.90 a share when he stepped in to $28.40 when he left this past week.
Sales have grown from $4.1 billion in his first fiscal year as CEO to $47.1 billion - more than 1,000%. And income has grown in that same time from $913.3 million to $7.9 billion - more than 750%.
The pressure is now on Robbins to keep the momentum going.
And while Robbins likely won't be able to create the kind of sales and earnings growth that Chambers oversaw, or the same explosive CSCO stock price growth, it doesn't mean CSCO stock should be overlooked by investors.
CSCO stock is a good buy, Chambers or not.
Here's why...
Should I Buy CSCO Stock with New Cisco CEO?
The handoff of the CEO role from Chambers to Robbins has had an almost negligible impact on the CSCO stock price.
Since the announcement of Chambers' departure on May 5, CSCO stock has fallen about 2.6% - compared to the Dow Jones Industrial Average, which has fallen about 2.8% in that same period.
So obviously, investors are muted on their endorsements of a Robbins-led Cisco.
This is as expected.
Robbins isn't going to shake up Cisco. He's a long-time veteran and a company man through-and-through. His task at the moment is rather simple.
"The challenge for the new CEO will be defending market share," Robinson said.
And as far as market share in Cisco's main line of business is concerned - data networking hardware - there aren't too many competitive headwinds to make Robbins' new role as CEO difficult.