The Pfizer earnings and Merck earnings reports were both released this morning (Tuesday), and investors' reactions have sent these major pharmaceutical stocks in different directions...
Pfizer Inc. (NYSE: PFE) stock was up 1.3% in early trading despite missing earnings per share estimates. Pfizer earnings came in at $0.42 per share after consensus estimates had called for earnings of $0.52 per share. Revenue was $11.9 billion, which topped estimates of $11.42 billion.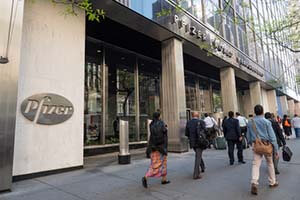 But the biggest story from the Pfizer earnings report was an upward revision of the company's earnings outlook.
Company officials now expect year earnings per share (EPS) between $2.01 and $2.07. That's up from a range of $1.95 to $2.05. Revenue is also expected to be $46 billion, up from $45 billion.
Merck & Co. Inc. (NYSE: MRK) stock fell 2% before 10 a.m. this morning despite posting EPS of $0.86. That beat consensus estimates of $0.81.
Investors were reacting to dismal sales figures, as revenue fell 11% in the quarter.
Merck officials also raised their year-end earnings predictions. They now expect 2015 EPS between $3.45 and $3.55. That's up from an initial range of $3.35 to $3.48.
Merck also announced that it will purchase cCam Biotherapeutics for $95 million. The company has cancer treatments in early-stage clinical trials.
Pfizer stock has climbed 11.4% in 2015, while MRK stock is up just 0.1% on the year. Both companies lag far behind the overall pharmaceutical industry. In 2015, the S&P Pharmaceuticals Industry Index has climbed an impressive 20.4%.
How to Profit from the Pharmaceuticals Industry Now: The biotech and pharmaceutical industries are absolutely booming with M&A activity in 2015. In the first quarter alone, more than $166 billion was spent by Big Pharma companies. Best of all for investors, there is an investment that's tapped into this market. Few investors know of its potential, but it has already returned 23% in 2015. And that's just the start...