The conflict between OPEC and U.S. shale/tight oil producers has entered a new phase. And the result has been an accelerated decline in the price of oil.
Last November (on Thanksgiving, no less), Saudi Arabia led an OPEC decision to hold production stable, followed by a later significant increase in volume. For the first time, the cartel had opted to protect market share rather than price.
This certainly did not serve the interests of some OPEC members - Venezuela, Nigeria, Libya, and Iran - who require much higher prices to balance unwieldy central budgets.
The primary opponent was the new source of oil in the market - unconventional production from North America, the United States in particular. Thereupon began a tug of war that has largely determined the range of oil pricing variation over the past eight months.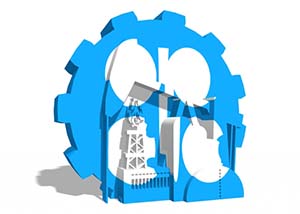 This is what is strange about all of this. Essentially, the same market conditions prevail today as existed a year ago when crude oil was exceeding $100 a barrel. In fact, global demand is higher now than it was last July - and accelerating. The price, on the other hand, has been cut in half.
To be sure, there is excess supply on the market (thanks to the remarkable recovery of American production, now at levels not seen in 40 years), and a correction was in order even without any OPEC move.
But that correction was more in the order of a decline to the low $80s or mid-$70s. That has gone down much further because of what outside pressures have done to the trading environment.
Here's my take on the international scheme to keep oil prices down...
The Big Players Still Play Dangerous Shorts
As I have noted, the interchange between "paper barrels" (futures contracts) and "wet barrels" (actual consignments of oil) has been undergoing some major changes. It is the financial contract, not the allotment of crude, that drives the market.
When prices begin showing weakness, the manipulation turns to shorting oil. A short is a bet that the price of an underlying asset will decline. Control of a commodity (or stock shares, for that matter) is acquired by borrowing from a dealer. What is borrowed is then immediately sold. The short seller later returns to the market, buys back the asset, and returns it to the original owner.
If the short seller is correct (or has manipulated the market through huge positions to make it correct), a profit is made. Take this simple example...
Join the conversation. Click here to jump to comments…
About the Author
Dr. Kent Moors is an internationally recognized expert in oil and natural gas policy, risk assessment, and emerging market economic development. He serves as an advisor to many U.S. governors and foreign governments. Kent details his latest global travels in his free Oil & Energy Investor e-letter. He makes specific investment recommendations in his newsletter, the Energy Advantage. For more active investors, he issues shorter-term trades in his Energy Inner Circle.