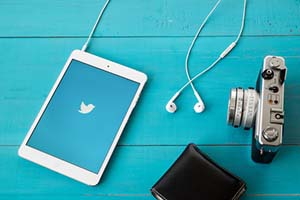 Twitter Inc. (NYSE: TWTR) announces earnings July 28 after the bell. The crucial numbers follow what's been a rough year for the company…
You see, investors want to know how the firm is battling flagging revenue, a management shake-up, and more.
Here are the need-to-know highlights in Twitter earnings for Q2 2015…
(We're writing in 140-character-or-less segments in the spirit of Twitter – and for amusement. Please enjoy these quick takeaways!)
Q2 2015 Twitter Earnings Rundown (NYSE: TWTR)
Earnings: FactSet analysts expect adjusted earnings of $0.04 per share. That's $0.02 per share more than the same period a year ago.
Revenue: Estimated revenue is $482 million, up 54% from a year ago, but still a slowdown in growth rate the last few quarters.
Ad sales: Estimated ad revenue of $426 million will account for most of the social media company's total sales.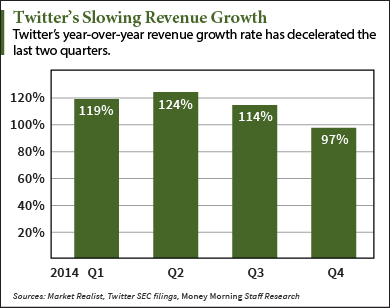 Shake-up: Dick Costolo stepped down as CEO July 1. TWTR now seeks a CEO who can make a "full-time commitment." Has it selected a new chief?
Monthly active users: In Q4 2014, TWTR fell 7 million under estimates. In Q1 2015, MAUs were at 308 million, compared to FB's 1.44 billion.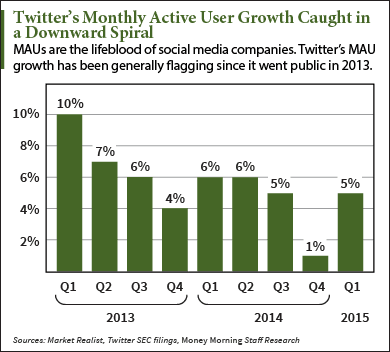 Twitter stock: Down more than 15% in the last three months, compared to a 1.1% a drop for the S&P. Will Q2 numbers make it better, or worse?
Forward guidance: Wall Street projects roughly 15.5% sequential revenue growth in the third quarter.
TWTR stock gained nearly 5% ahead of its earnings release.
The Bottom Line:
TWTR earnings
must show improvement in user base growth and strength in management before we'll call Twitter stock a "Buy."
Tweet the author @TaraKateClarke, or leave a comment on Money Morning's Facebook page.
Will This 2016 Presidential Candidate Be a Boost for Tech? Technology is the engine of the U.S. economy. So wouldn't it be nice if we had a president who understood the Internet of Everything, Big Data, cloud computing, and all the other paradigm-altering advances coming out of Silicon Valley at an incredibly rapid pace? Enter this one 2016 hopeful…