As much as it pains me to contribute to the thousands of articles mentioning Donald Trump, this one is different…
It's different because I'm going to show you exactly how you can cash in on a concrete pattern, going back three-quarters of a century, which appears across the markets during the "election cycle," or the last two years of every American presidency.
No matter what "The Donald" says or does, no matter who wins, this event has offered savvy investors clockwork profits, and it will do the same for us, too, so it's important to start getting ready now.
Have a look at this chart and you'll see what I mean…
In Donkey vs. Elephant, the Bull Always Wins
My wife and I actually skipped seeing Donald Trump when he was in town recently. Somehow we had VIP access to the candidate and the opportunity to take some pictures.
But rather than join him at the banquet, I decided to stay home to do what I really love doing: poring through gigabytes of data and my proprietary charts.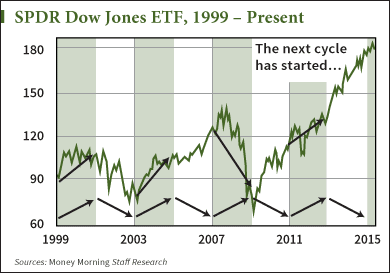 What I found on this chart that night was way more exciting than any meet-and-greet.
The chart at left shows the monthly performance of the SPDR Dow Jones Industrial Average ETF (NYSE Arca: DIA) going back 16 years.
When you superimpose this over Washington's "work" schedule, the green areas are the last two years of the four-year cycle; it's the time when work stops and campaigning starts.
There has only been one instance where we were heading into the last two years of a four-year presidency that the stock market lost points. And that of course was during the 2007-2008 election cycle, when Republican John McCain was facing off against a young Democrat, Barack Obama.
As we all remember, the stock market was in a rapid free fall at the time due to the meltdown of the global financial system. But… it certainly didn't take long for the pattern to get back on track. The following 2011-2012 cycle saw the pattern return with a vengeance, giving gains of 15%.
This Has Generated Serious Profits Since F.D.R.'s Day
The truth is, this cycle is extraordinarily long-lived, going back 75 years. If you break down the first two years' returns and the last two years' returns, something really interesting arises…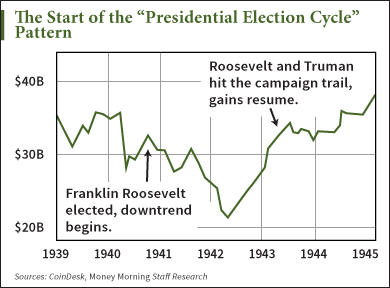 In 1940, we see weakness develop. And then we see strength – and gains – return toward the middle of 1943.
In other words, the first two years are generally weaker than the last two years. It's safe to say that the last two years are where you want to be as an investor by far. That's where the bigger gains live.
November 2015 will start another cycle, so there's still time to get in position to make the trade I'm about to show you.
This Next Pattern Guides the Trade
Join the conversation. Click here to jump to comments…
About the Author
Tom Gentile, options trading specialist for Money Map Press, is widely known as America's No. 1 Pattern Trader thanks to his nearly 30 years of experience spotting lucrative patterns in options trading. Tom has taught over 300,000 traders his option trading secrets in a variety of settings, including seminars and workshops. He's also a bestselling author of eight books and training courses.