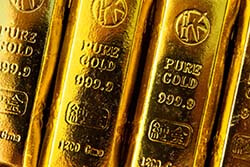 Gold Prices Down Today: Gold prices were lower in early trading today (Friday) as traders remain guarded ahead of next week's U.S. Federal Reserve meeting.
The spot price of gold hit a low of $1,097.90 in early trading. That put gold prices at a two-week low. Gold prices are also on pace for a third straight week of declines.
Precious metal traders are waiting for the Federal Reserve's meeting next Wednesday and Thursday before making big moves. Monetary policy will be the major topic of the meeting. Investors are waiting to see if the U.S. central bank initiates its first interest rate hike in seven years.
Gold prices have benefited in recent years from near-zero interest rates. Gold is a dollar-denominated commodity, so the precious metal becomes more expensive for international buyers when the dollar rises. A rise in interest rates would strengthen the U.S. dollar.
Expectations of an interest rate hike, which have been hovering over the marketplace for more than a year, have cast a shadow over gold prices. Those prospects have helped push gold prices down 7.5% year to date and 11.8% over the last 12 months.
Gold Prices Down as Traders Watch the Fed
Forecasts of when the Fed will actually raise rates remain mixed. That uncertainty about the Fed's timing has many traders sitting on the sidelines and waiting to take solid gold positions.
"Chances are that [rates] will remain in hold for another month," Jonathan Butler, a precious metals strategist at Mitsubshi, told The Wall Street Journal. "But the market is in 'wait-and-see' mode."
Still, some industry experts expect gold prices to head higher in the coming weeks and months as concerns escalate about the health of the global economy.
"Given the weaker dollar and the potential for further contagion from China, especially in emerging markets, we wouldn't be surprised to see gold work higher," William Adams, head of research at Fastmarkets, said in a note to investors Friday.
Worries over extreme volatility in worldwide financial markets and anxiety over slowing growth in China should also provide a cushion for gold prices. China's Shanghai Index is down 38% from the high it hit in June.
Stay informed on what's going on in the markets by following us on Twitter @moneymorning.
Protect Yourself from a Total Market Collapse: According to CIA Asymmetric Threat Advisor Jim Rickards, there are five "flashpoints" that signal the death of the U.S. dollar and a complete economic collapse in the United States. Here's how you can protect yourself, and your money, before it's too late…
Related Articles: