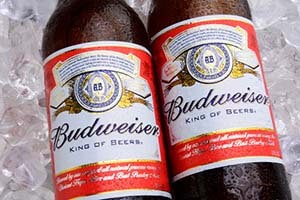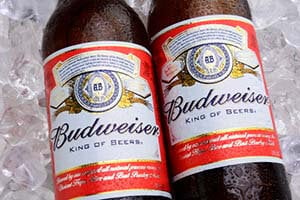 Anheuser Busch Inbev SA (NYSE: BUD) stock was up as much as 7.8% today (Wednesday) to $116.43 after proposing an acquisition of SABMiller Plc.
BUD stock is now in the black for the year, with a year-to-date gain of 1.2%.
SABMiller Plc. (OTCMKTS ADR: SBMRY) shares surged roughly 21% to $56.69 following the news.
According to The Wall Street Journal, the deal would be worth more than SABMiller's $75 billion market cap.
The combined company would own nine of the world's top 20 beers by volume. Annual sales would approach $55 billion. Under the Anheuser Busch InBev umbrella are the iconic brands Budweiser, Becks, Michelob, and Rolling Rock. London-based SABMiller makes Pilsner Urquell and Peroni, among others.
If a transaction does occur, it will be the largest merger in brewing history. According to Dealogic, it may also rank among the top 10 takeovers of all time, with a combined value around $230 billion.
A deal would allow BUD to boost its footprint in fast-growing markets like South Africa, where SAB Miller dominates in 15 countries and has a commanding presence in 21 others. It would also bolster BUD's grip in South America and Mexico, which are by far its most profitable markets.
While BUD stock is up on today's news, the deal still faces some major obstacles...
BUD Stock Climbs, But the Deal Faces Hurdles
While SABMiller officials have been informed of the deal, they announced today that they have not yet received a formal proposal.
According to UK takeover rules, BUD has until by 5 p.m. on Oct. 14 to make an official offer.
Any transaction would require full support from Altria Group Inc. (NYSE: MO). Altria holds a 27% stake in SABMiller, making the tobacco giant SAB's biggest shareholder. BUD will also need to get the backing of the Alejandro Santo Domingo family, which owns a 14% stake in SAB Miller.
Further, there will also be some regulatory issues for BUD...