Today we're going to talk about the 800-pound gorilla in the room. No politician will touch it, and no citizen wants to acknowledge it in an era where political correctness has run amok.
But we have to.
"It" is Europe's desperate refugee crisis, and "it" is by far the single biggest threat to your money today. You're not hearing about this at the moment, but you will in the months ahead.
The situation is considerably more dangerous than a potential Fed rate hike and much more worrisome than China's economic train wreck. As was the case in 2007 with the financial crisis when most viewed it as a localized $300 billion problem and I warned you otherwise, the refugee crisis is a truly global situation, the seriousness of which is unparalleled in modern times.
I have no doubt you have your feelings on the matter just as I have mine. Whether we agree or disagree is moot.
In my role as Chief Investment Strategist for Money Morning, I do not have the luxury of taking one side or another. My job is to help you protect your money and profit no matter what events are at hand.
That's what we're going to talk about today. Then, of course, I'm going to give you my take on what this means for your money and a few specific investments you can make right now to help tame an otherwise unruly situation.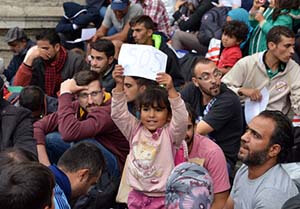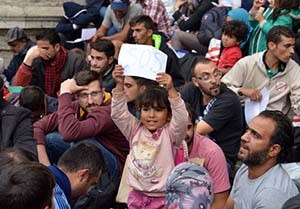 Here's what no one understands about the refugee crisis... yet.
Put very simply, the refugee crisis is the single largest human movement in Europe since WWII and a religio-sociographic earthquake the likes of which the world hasn't seen for centuries.
Ultimately, the situation can be a good one.
That's because adept, intelligent politicians can turn social, political, and economic risks into opportunity. Migrants, for example, can backfill an aging European labor pool, are ready to work, and can help by raising overall birth rates to shore up a shaky demographic pyramid.
Wharton University Professor Robert Meyer notes, for example, that refugee immigration can have long-term positives. The highly skilled start businesses while the lower skilled or no-skilled take jobs locals don't want. That's what happened in the 1960s when Castro sent people packing for the United States. Today, Meyer observes, at least 40% of the startups in Silicon Valley have an immigrant as a founder.
Naturally, this is where things get tricky.
Like many people, I am hard pressed to use intelligent and politician in the same sentence these days. A positive outcome is dependent on positive people.
Right now, Europe is a stunted mess and its citizens, like our own, feel economically insecure. Many are still reeling from the global financial crisis of 2008-2009.
Citizen trust is at or near the bottom of the barrel when it comes to entrenched political leaders. If even a single Syrian refugee commits an act of terrorism, there's going to be hell to pay politically. Not surprisingly, nationalist sentiment is building.
Over the short term, this will be played out as humanitarian concerns collide with austerity policies, housing needs, and integration. Already strained public finances are going to get crushed. That's not yet registered for most people.
Join the conversation. Click here to jump to comments…
About the Author
Keith is a seasoned market analyst and professional trader with more than 37 years of global experience. He is one of very few experts to correctly see both the dot.bomb crisis and the ongoing financial crisis coming ahead of time - and one of even fewer to help millions of investors around the world successfully navigate them both. Forbes hailed him as a "Market Visionary." He is a regular on FOX Business News and Yahoo! Finance, and his observations have been featured in Bloomberg, The Wall Street Journal, WIRED, and MarketWatch. Keith previously led The Money Map Report, Money Map's flagship newsletter, as Chief Investment Strategist, from 20007 to 2020. Keith holds a BS in management and finance from Skidmore College and an MS in international finance (with a focus on Japanese business science) from Chaminade University. He regularly travels the world in search of investment opportunities others don't yet see or understand.