The Nasdaq Composite has fallen more than 9% since July 20, causing many bearish experts to claim we're nearing a tech bubble.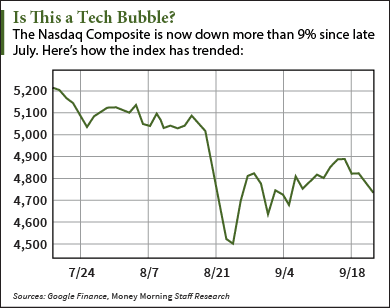 The "experts" claim the tech sector became overheated in the 12 months prior to this recent pullback. On July 20, the Nasdaq hit a high of 5,231.94.
From July 2014 to July 2015, the Nasdaq Composite climbed 18.4%. That was more than triple the gains of the Dow during the same time.
But this is not a tech bubble burst that we're experiencing. This latest sell-off is just a natural part of investing. The market breathes in, and the market breathes out.
In fact, we're not even in tech correction territory at the moment. A stock market correction is defined as a 10% drop from an index's high point. We reached a correction in late August when the Nasdaq was down more than 13% from its high, but the index quickly rebounded.
Sign up for SMS so you never miss special events, exclusive offers, and weekly bonus trades.
Even at August's lows, we were still far from a tech bubble. A "bubble" bursting is a cataclysmic crash in the market. At the height of the dot-com crash, the Nasdaq fell 80% in just two years.
In fact, we're still not even close to a bear market, which is defined as a 20% drop from the high price.
One of the biggest signals we're not close to a bubble is the IPO market, says Money Morning Defense & Tech Specialist Michael A. Robinson.
"Having worked with startups in Silicon Valley during the 'dot-bomb' implosion, I know what a real tech bubble looks like," Robinson said in August. "We're talking about companies going public in just six months from their founding and stocks traded at insane multiples to their earnings... and many that didn't even have any sales."
"Today, it's just the reverse of that. Startups are opting to stay private far longer," he continued. "They're taking seven to 10 years before their initial public offering, meaning they become 'real' companies with meaningful sales and strong earnings growth before they even consider selling shares to public investors."
Instead of predicting a tech bubble bursting, Robinson says we'll see the tech market climb much higher from here.
"The American economy now runs on high tech - from chips to cloud computing to biotech to Bluetooth and Wi-Fi, these advanced systems form the backbone of our nation's growth," Robinson said.  
Here are three tech stocks that Robinson recommends now at discounted levels...