The Nasdaq Composite has fallen more than 9% since July 20, causing many bearish experts to claim we're nearing a tech bubble.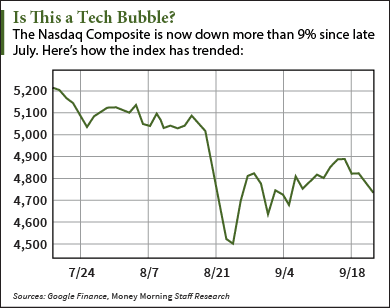 The "experts" claim the tech sector became overheated in the 12 months prior to this recent pullback. On July 20, the Nasdaq hit a high of 5,231.94.
From July 2014 to July 2015, the Nasdaq Composite climbed 18.4%. That was more than triple the gains of the Dow during the same time.
But this is not a tech bubble burst that we're experiencing. This latest sell-off is just a natural part of investing. The market breathes in, and the market breathes out.
In fact, we're not even in tech correction territory at the moment. A stock market correction is defined as a 10% drop from an index's high point. We reached a correction in late August when the Nasdaq was down more than 13% from its high, but the index quickly rebounded.
Even at August's lows, we were still far from a tech bubble. A "bubble" bursting is a cataclysmic crash in the market. At the height of the dot-com crash, the Nasdaq fell 80% in just two years.
In fact, we're still not even close to a bear market, which is defined as a 20% drop from the high price.
One of the biggest signals we're not close to a bubble is the IPO market, says Money Morning Defense & Tech Specialist Michael A. Robinson.
"Having worked with startups in Silicon Valley during the 'dot-bomb' implosion, I know what a real tech bubble looks like," Robinson said in August. "We're talking about companies going public in just six months from their founding and stocks traded at insane multiples to their earnings... and many that didn't even have any sales."
"Today, it's just the reverse of that. Startups are opting to stay private far longer," he continued. "They're taking seven to 10 years before their initial public offering, meaning they become 'real' companies with meaningful sales and strong earnings growth before they even consider selling shares to public investors."
Instead of predicting a tech bubble bursting, Robinson says we'll see the tech market climb much higher from here.
"The American economy now runs on high tech - from chips to cloud computing to biotech to Bluetooth and Wi-Fi, these advanced systems form the backbone of our nation's growth," Robinson said.  
Here are three tech stocks that Robinson recommends now at discounted levels...
This Is Not a Tech Bubble, It's a Buying Opportunity
[mmpazkzone name="in-story" network="9794" site="307044" id="137008" type="4"]
Apple Inc. (Nasdaq: AAPL) is trading at a discounted price near $113 per share after falling 10.4% in the last three months. But according to Robinson, it is the type of tech stock that you buy and hold for the next decade. Apple increased its iPhone sales 75% in the June quarter, and its Apple Watch is selling more than 10 million units a year. "It has a 41% return on equity and grew its most recent quarterly earnings by 38% - or more than 15 times the U.S. economy's average growth over the last five years," Robinson said.
AbbVie Inc. (NYSE: ABBV) generated more than $12.5 billion from its drug Humira in 2014 alone. And while some worry the company is too dependent on that drug, ABBV recently purchased Pharmcyclics Inc. for $21 billion. The buyout added Imbruvica (ibrutinib), a promising leukemia drug, to its portfolio. In the last three months, ABBV stock has dipped 17.7%, giving it a discounted price of $57.63.
SanDisk Corp. (Nasdaq: SNDK) is the market leader of flash memory for electronic devices like cameras, mobile phones, laptops, and tablets. But it's the company's push into cloud computing that makes it a stock to buy and hold now. The research firm IDC says companies will spend more than $40 billion in 2015 on storage hardware like SanDisk's. The stock is down 22% in the last three months to today's discounted price of $51.
The Bottom Line: While the tech sector entered, and then quickly exited, stock market correction territory, this is not a tech bubble we're seeing now. In fact, this isn't even a bear market. But while many investors are worrying, this is actually a great time to pick up shares of discounted tech stocks. Three of Robinson's favorite plays now are AAPL, ABBV, and SNDK.
Follow us on Twitter @KyleAndersonMM and @moneymorning.
Like us on Facebook: Money Morning.
Protect Yourself from a Total Market Collapse: According to CIA Asymmetric Threat Advisor Jim Rickards, there are five "flashpoints" that signal the death of the U.S. dollar and a complete economic collapse in the United States. Here's how you can protect yourself, and your money, before it's too late...