Qualcomm Inc. (Nasdaq: QCOM) stock is not only trading for a bargain - it's a tech company that offers investors exposure into emerging multimillion-dollar markets.
Estimates set these emerging markets with a value of $121.1 million by the end of 2015, with further room for growth.
Qualcomm stock has fallen 29% since Sept. 29, 2014, but don't let the stock's slump fool you. There is stronger performance ahead.
One headwind for QCOM stock was that Samsung passed over Qualcomm's Snapdragon 810 chip for its flagship Galaxy S6 smartphone. Bloomberg reported in January that the chips overheated during testing. QCOM stock saw a loss of almost 16% from the start of January.
U.S.-based manufacturers of communication and network solutions like Qualcomm also faced increased barriers for profitability in Asian markets this year. Chinese government officials endorse the purchase of local technology for its agencies, and stricter regulations on imported telecommunication products add difficulty for generating revenue growth in foreign markets.
Money Morning Defense & Tech Specialist Michael A. Robinson identified two key reasons why buying Qualcomm stock now will pay off for your portfolio...
How Qualcomm (Nasdaq: QCOM) Will Grow Through a Powerful Acquisition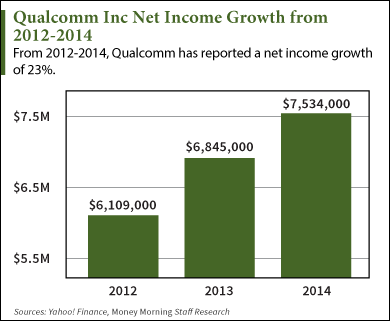 The first reason is Qualcomm's acquisition of CSR in April 2015. Robinson called CSR a "pioneer in Bluetooth and wireless connectivity systems" and showcased why the QCOM stock price has tremendous fuel for profit growth.
"CSR ranks as a leader in automotive 'infotainment systems,' telematics, and technology for the Internet of Everything (IoE). This last market is a potential goldmine for Qualcomm," said Robinson. "The International Data Corporation expects the IoE market, with its billions of interconnected devices, to grow from a value of $1.9 trillion in 2013 to $7.1 trillion by 2020."
Prime access to the IoE market's projected $7.1 trillion value in the next five years offers a positive outlook for overall net income gains. Before this acquisition, Qualcomm reported net income growth of 23% from 2012-2014. Access to the IoE market will only help expand profitability.
Technology stock investments need new sources of growth to drive profits. It also helps if they own a large amount of patented technology - and that's another reason QCOM is a solid tech stock to own.
Qualcomm's Profitable Patent Collection