The Ferrari IPO priced at $52 a share yesterday. The deal was one of the most anticipated IPOs of 2015 and raised $893 million.
Now that the company has started trading, investors are wondering if investing in Ferrari stock will strengthen their portfolios.
That's why we created a three-step investing strategy for those looking to invest in Ferrari stock.
It will help you maximize your gains on RACE – take a look…
Investing in Ferrari Stock: The Financials
Founded in 1947, Ferrari has become one of the most valuable car brands in the world. Its line of cars can cost from $188,000 to upwards of $500,000. In fact, the most expensive car ever sold was a 1962 Ferrari 250 GTO for $35 million.
Ferrari maintains exclusivity by limiting annual production to 7,000 vehicles. The production cap ensures demand always outpaces supply.
"There are clear expectations from ourselves as Ferrari brand is unique," said CEO Sergio Marchionne at a presentation in Turin, Italy, on July 3.
Ferrari implemented its 7,000-unit sales cap after selling a record 7,318 vehicles in 2012. It sold 6,922 cars in 2013, down 5.4% from 2012.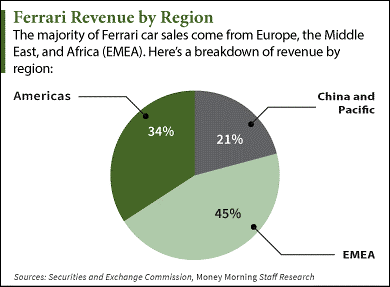 But Ferrari's revenue still increased 5% to 2.3 billion euros ($3.2 billion) over the period. Its net profit also increased 5.4% to 246 million euros ($338.5 million). The revenue boost came from costly personalization done on the cars.
The company said it plans to expand sales into larger Asian markets. However, government approvals and other federal regulations could impede sales growth in China and other Asian countries.
"If our international expansion plans are unsuccessful, our business, results of operation and financial condition could be materially adversely affected," the IPO filing read.
Ferrari stock could also experience volatility as the auto sector recovers from the Volkswagen AG (OTCMKTS ADR: VLKAY) diesel scandal.
On Sept. 21, VLKAY stock cratered 20% after officials admitted the German automaker cheated on U.S. emissions tests. Regulators found the diesel models emitted more than 40 times the acceptable amount of nitrogen oxide.
The scandal sent ripples through the entire auto industry...
From Sept. 21 to the end of the month, European car companies lost a combined $50 billion in market value. Paris-based Peugeot SA (OTCMKTS ADR: PEUGY) and Fiat Chrysler Automobiles NV (NYSE: FCAU) stock fell 14% and 9%, respectively.
Despite recent volatility in the industry, Ferrari boasts solid revenue growth and strong brand recognition. That means Ferrari stock could be a strong addition to your portfolio down the road.
But IPO investing is a dangerous game for retail investors. Traders who aren't hedge fund managers or investment bankers can see huge losses if they aren't careful.
"IPOs are little more than a get-rich-quick scheme that's so heavily stacked against you that it makes the house odds in Vegas seem downright conservative," said Money Morning Chief Investment Strategist Keith Fitz-Gerald. "I say that because you are literally the last in a long line of people who are going to profit from the IPO process."
Here's the safest strategy for investing in Ferrari stock...
The Three-Step Guide to Investing in Ferrari Stock