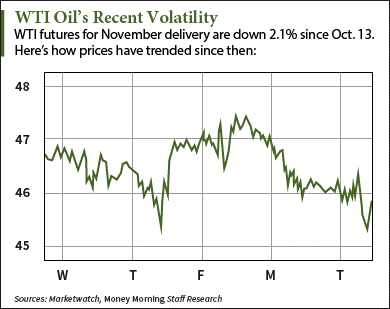 WTI crude oil prices today (Tuesday) fell 0.1% ahead of tomorrow's OPEC meeting and today's expiration for November futures contracts.
WTI crude oil prices closed at $45.55 a barrel for their second consecutive down day. That marks the lowest settlement in more than two weeks, falling past yesterday's $45.89 close. WTI futures have posted losses in five out of the last six trading sessions.
Brent crude oil prices rose 0.2% to $48.71 a barrel. The international benchmark has fallen 2.4% in the last week but gained 1.1% so far this month.
Here's why WTI crude oil prices are down today…
Two Factors Sending WTI Crude Oil Prices Lower Today
The first reason WTI crude oil prices are down today is the expiration of WTI futures contracts for November delivery. When futures expire, traders tend to "book-square" – the process of hedging contracts to reduce exposure to the market. Investors take a square position when they're uncertain of how next month's futures will perform. That can cause a slight sell-off in prices.
Another reason for today's decline in oil prices is tomorrow's OPEC meeting. However, the discussion between cartel and non-cartel producers isn't garnering attention since the larger producers don't plan on reducing output. Saudi Arabia – the de facto leader of OPEC – calls it a "technical meeting" due to Venezuela's months-long push for a sit-down.
"The reason the market pretty much shrugged the news off was because the idea was spearheaded by Venezuela, who has very little influence in OPEC," said Tyler Richey, co-editor of market research website The 7:00's Report, to MarketWatch. "It is well known they are hurting the most financially from the decline in oil prices and therefore, are desperate for an oil rally."
But there's another larger producer gearing up for an OPEC meeting.
And Money Morning Global Energy Strategist Dr. Kent Moors says this meeting could save many countries from economic collapse…