Nov. 14 Update:  On Friday, Nov. 13 the International Monetary Fund made a recommendation that virtually guarantees a yuan reserve currency.
IMF head Christine Lagarde said the yuan now "meets the requirements to be a 'freely usable' currency.
Original story follows:
It's almost certain a yuan reserve currency will become reality 11 months from now, triggering a foreign currency shift of as much as $2 trillion – an existential threat to the U.S. dollar's status as the world's primary reserve currency.
Last week, Bloomberg reported that International Monetary Fund (IMF) officials have told Chinese officials that the yuan will join the organization's basket of reserve currencies "soon."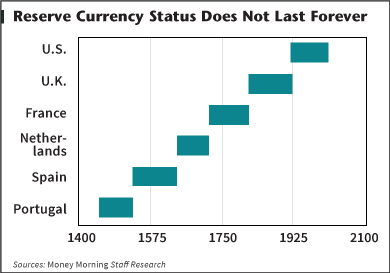 Sources told Bloomberg that Chinese officials are so sure the IMF will decide in their favor that they're already drafting statements to celebrate it.
The IMF board will meet in November to make a final yuan reserve currency decision. If it decides in favor of China, the yuan will join its basket of currencies, known as Special Drawing Rights (SDR), at the end of September 2016.
The last time the IMF conducted a review of the SDR basket, in 2010, it decided that the yuan was not yet "freely usable."
But since then, the People's Bank of China has exerted great effort to liberalize its yuan policies to make it trade more like other major world currencies. In fact, China has sought yuan reserve currency status for decades.
Inclusion in the SDR basket by itself isn't a huge deal – it's mainly a system of global liquidity that gives members the right to obtain currencies in the basket to meet balance-of-payment needs. They're also held as an emergency buffer in the event any one currency fails and the nation in question still needs to buy stuff in the world's market place – like food and fuel, for example.
The total value of the SDR basket is only about $280 billion, not a large sum compared to global foreign exchange reserves of about $11.46 trillion.
But as an SDR world reserve currency, the yuan would have special status. After all, there are only four other currencies in the IMF basket – the U.S. dollar, the Japanese yen, the euro, and the British pound sterling.
Suddenly the yuan will become a disruptive force…