The FB stock price opened at an all-time high today (Thursday) of $108.47 per share after Facebook Inc. (Nasdaq: FB) reported strong Q3 earnings yesterday.
Facebook reported earnings per share (EPS) of $0.57 on $4.5 billion in revenue. This beat Wall Street's expectations of $0.52 on $4.37 billion in revenue.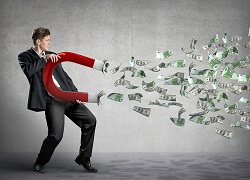 Aside from revenue, investors also closely watched monthly active users (MAUs) and daily active users. Facebook grew MAUs to 1.55 billion in Q3. That's a 14% percent increase from last year. Facebook reported daily active users of 1.01 billion, which exceeded estimates of 992 million.
A larger, active user base makes Facebook more appealing to advertisers, which brings in more revenue from advertising.
At its opening price today, the Facebook stock price has jumped nearly 65% since its initial public offering (IPO) price of $38 per share.
Money Morning E-Commerce Director Bret Holmes says the sky is the limit for Facebook and its advertising business. You see, Holmes uses web advertising across multiple social media platforms as part of his job here at Money Morning.
"They are still their only advertising client," Holmes said. "Wait until they supplant AdSense as the de facto ad serving platform for the rest of the world. Facebook will be the largest thing the Internet has ever seen for advertising and five times bigger than Google has ever been (on the Internet - not in aggregate for all business). They will drive more conversions, deeper spends, and more interaction. They are just getting started."
Advertising will continue to drive the FB stock higher from here, but the social media behemoth has additional sources for revenue that it hasn't even tapped into yet. Here's how Facebook is going to make even more money in 2015 and beyond...