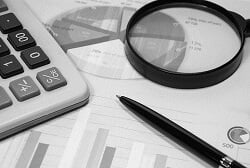 Every investor needs to know how to analyze earnings reports, because they're one of the most important tools investors have.
Earnings reports measure a company's financial health and help investors gauge whether or not a company's stock is a strong investment.
Each publicly traded company files an earnings report every quarter. It's considered a "report card" because it tracks performance metrics like revenue, cash flow, and operating costs.
But investors need to dig deeper into every earnings report and know how to decipher these numbers.
Here's our four-step guide on how to analyzing earnings reports...
How to Analyze Earnings Reports No. 1: Focus on the Key Metrics
The most important metrics of an earnings report are revenue and earnings per share (EPS). These are the first numbers every investor looks for when the report comes out.
EPS is called the "bottom line" of an earnings report because it's displayed at the bottom. It's the portion of a company's profit distributed to each share of stock. It can be calculated by dividing the company's profit by the number of outstanding shares.
Each earnings report breaks the metric down into basic EPS and diluted EPS. Basic EPS only concerns a company's total number of shares, whereas diluted EPS concerns all shares, options, bonds, and other securities.
Diluted EPS helps investors determine a share's price and a company's profitability. That's because it takes all types of company assets into account rather than just outstanding shares.
Revenue, on the other hand, is the "top line." It's the total amount of money a company rakes in each quarter. Revenue is synonymous with "gross income" and is simply the price of a company's product multiplied by the number of products sold.
Here's how you can use EPS and revenue numbers to measure a company's financial health...