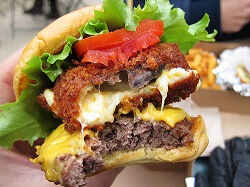 The Shake Shack Inc. (NYSE: SHAK) stock price is up 17% this week, and investors are wondering if they should buy Shake Shack stock before the rally continues.
Yesterday, Shake Shack reported a blowout quarter on the top and bottom lines. It posted earnings of $0.12 per share on revenue of $53.3 million. That smashed analysts' expectations of $0.07 per share on revenue of $47.3 million. CEO Randy Garutti attributed strong sales to increased menu prices and hype around limited edition menu items like the Roadside Shack Burger.
The popular burger chain has been heavily hyped since its huge IPO on Jan. 29. Early investors ran in to buy Shake Shack stock and sent it up 119% on its first day of trading. Since then, it's seen a total return of 143% and is the second best-performing IPO of 2015 behind Spark Therapeutics Inc. (Nasdaq: ONCE).
But Shake Shack's hype is the perfect reason why it's not worth the investment millions of people think it is. According to Money Morning Chief Investment Strategist Keith Fitz-Gerald, the company has an inflated valuation it will never be able to live up to.
"What's happening with Shake Shack is a very serious warning that the markets have become frothy and that investors are chasing hot ideas rather than results," Fitz-Gerald explained back in July.
The company's forward price/earnings (P/E) ratio and price/earnings to growth (PEG) ratio are 10 times higher than those of Chipotle Mexican Grill Inc. (NYSE: CMG) and McDonald's Corp. (NYSE: MCD). That means each Shake Shack store is valued at $50 million. That's illogical considering how little the company has grown during its nine months on the market.
"If the Shack is going to achieve a McDonald's-like valuation per location, the company would have to open approximately 864 restaurants representing a 1,037% expansion from the 76 locations they operate today," explained Money Morning Chief Investment Strategist Keith Fitz-Gerald.
But that's just one reason why you shouldn't buy Shake Shack stock...