Investors normally don't consider coffee a sexy investment – and they usually don't envision it in their tech portfolios.
But that's a mistake. I'm going to show you a coffee company that's leveraging some of the hottest, most lucrative segments in tech – mobile apps and commerce – that will crush not only the competition, but other retailers as well.
In fact, more than 9 million people use this app every week to purchase this company's food and beverages, right from their mobile devices. That comes to 20% of sales for a firm that last year had revenue of $16.4 billion.
That's why this neighborhood java slinger is a world leader in mobile commerce – and why it's killing the S&P 500 by 7,900%.
It's going to continue to do that on its way to doubling and beyond. Here's how…
Starbucks Has Been a "Stealth" Tech Star for Decades Now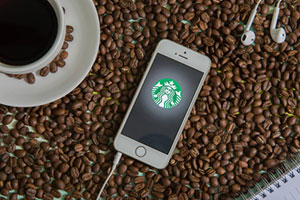 The executives at Starbucks Corp. (Nasdaq: SBUX) have used high tech as a sales tool for years.
That's because the company consciously views the technology it employs as a strong competitive advantage that boosts sales and improves margins.
For example, back in 2001, at a time when many consumers were still using 56K dial-up connections to surf the web, the Seattle-based global chain introduced Wi-Fi throughout its stores.
It's as if the firm's leaders looked ahead to a time when mobile-enabled professionals would choose Starbucks as a prime place to meet with clients, return calls, or just catch up on emails and paperwork over an iced coffee or flavored latte.
This "build it and they will come" attitude has paid off big-time for Starbucks, with more than 60 million people visiting one or more locations every week. That's more than 3.1 billion visits per year.
But the firm's growing embrace of mobile technology dwarfs even anything from its impressive "early adopter" past. Starbucks is now among the biggest players in one of the fastest-growing tech markets around – mobile commerce.
Digi-Capital forecasts that total mobile services will grow nearly threefold between 2014 and 2018, from $300 billion to $850 billion. And mobile commerce will account for 70% of that revenue, or about $595 billion.
Now here's why you can expect a healthy chunk of those billions to go straight into Starbucks' coffers.
Starbucks Follows the "Rules"
To put the company's mobile platform and its other growth ventures into context, I'm going to run Starbucks through the five filters of my tech-investing strategy for building wealth – Your Tech Wealth Blueprint.
As you're about to see, by adhering to my five rules, Starbucks is set to double in value – and fast.
Rule No. 1: Great Companies Have Great Operations
You'll find your best returns with well-run firms guided by top-notch leaders, and CEO Howard Schultz fits the bill in spades.
The son of a World War II veteran who never finished high school, Schultz grew up in federally subsidized housing before going on to transform Starbucks from a single shop to one with 20,000 outlets in 65 countries.
More than a mere CEO, Schultz is a business visionary and a motivational leader who has inspired countless other entrepreneurs.
Join the conversation. Click here to jump to comments…
About the Author
Michael A. Robinson is one of the top financial analysts working today. His book "Overdrawn: The Bailout of American Savings" was a prescient look at the anatomy of the nation's S&L crisis, long before the word "bailout" became part of our daily lexicon. He's a Pulitzer Prize-nominated writer and reporter, lauded by the Columbia Journalism Review for his aggressive style. His 30-year track record as a leading tech analyst has garnered him rave reviews, too. Today he is the editor of the monthly tech investing newsletter Nova-X Report as well as Radical Technology Profits, where he covers truly radical technologies – ones that have the power to sweep across the globe and change the very fabric of our lives – and profit opportunities they give rise to. He also explores "what's next" in the tech investing world at Strategic Tech Investor.