Editor's Note: Bill has given his Private Briefing readers more than 257 winning trades – including 192 double- and triple-digit peak gains. Now, normally his ideas go out to paid-up subscribers, but we wanted to bend the rules a bit to make sure you saw this in time for Black Friday – before you hit the malls. Here's Bill…
As a pretty typical American male of a certain age, I avoid the mall – even on Wednesday nights, when it's a ghost town.
So you know I'm not leaving the house today, of all days, as hordes of bargain-seekers descend upon the malls and big-box stores in search of discounted Apple Watches and Xboxes.
Instead, tonight, after the young ones are in bed and the kitchen is clean, I'll start making my list.
You know the one I mean; the "first draft" of this year's Christmas gift-buying plan.
You probably have a similar list – and if you have more than one kid, I bet that list is a lot more like a complex spread sheet.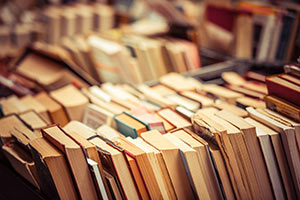 And if you're anything like me, I bet that list is filled with books.
A graphic novel for nephew Matthew, a mystery for Aunt Sarah, a rock star's memoir for cousin Charles… and so on down the line.
But I'll share my passion for investing with some of the folks on my list, too. After all, everyone wants to build a fortune – or at least keep the bill collectors at bay.
These will do the job nicely…
My Favorite Investing Classics for Everyone on Your List
I've got 12 classics for you. I don't want to spoil it, but I'll tell you they're all as entertaining as they are informative, and there really is "something for everyone."
Take a look – and let me know if there's an investing favorite of yours that I might have missed.
Michael Lewis: "Liar's Poker: Rising Through the Wreckage of Wall Street"
With its focus on the junk-bond pollution of the 1980s, this book is about an earlier era, to be sure. But substitute in "Goldman Sachs" for "Salomon Bros.," "credit-default swaps" in for "junk bonds," and "housing bubble" for "leveraged buyouts," and you'll see that nothing ever changes on Wall Street. Plus, the book is flat-out hilarious.
Paul Vigna & Mike Casey: "The Age of Cryptocurrency: How Bitcoin and Digital Money Are Challenging the Global Economic Order"
Thanks to our Apple Pay and digital payments plays, Private Briefing subscribers have cashed in big. But those recommendations are merely the "leading edge" of a huge new disruptive wave in payments and cryptocurrencies. And understanding Bitcoin, a payments technology on the vanguard of this new wave, will be a key to your understanding future profit plays. This book, written by two Wall Street Journal reporters, will prepare you for what's to come. I heard these two gents speak during a guest appearance on the late-night radio show "Coast to Coast AM," which I sometimes tune into during my late-night drives home. I was so impressed with what they had to say that I immediately ordered the book. It's an interesting read.
Join the conversation. Click here to jump to comments…
About the Author
Before he moved into the investment-research business in 2005, William (Bill) Patalon III spent 22 years as an award-winning financial reporter, columnist, and editor. Today he is the Executive Editor and Senior Research Analyst for Money Morning at Money Map Press. With his latest project, Private Briefing, Bill takes you "behind the scenes" of his established investment news website for a closer look at the action. Members get all the expert analysis and exclusive scoops he can't publish... and some of the most valuable picks that turn up in Bill's closed-door sessions with editors and experts.