One of the hot penny stocks today (Tuesday) was Giga-tronics Inc. (Nasdaq: GIGA), which rose as high as 234% in morning trading.
Before the markets opened, the San Ramon, Calif.-based electronics company announced a strategic arrangement with defense contractor Lockheed Martin Corp. (NYSE: LMT).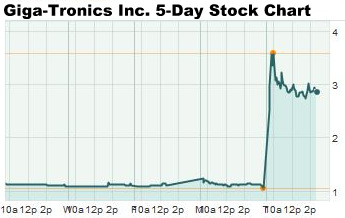 Lockheed has agreed to use Giga-tronics' Advanced Signal Generator, a radar emulation system used in testing and development. Giga-tronics makes instruments, subsystems, and software used in defense electronics, aeronautics, and wireless telecommunications.
"Lockheed Martin was one of the initial Advanced Signal Generator customers; this partnership demonstrates their belief in its potential and capabilities," Giga-tronics President and CEO John Regazzi said.
While the financial terms of the deal were not disclosed, the news sent GIGA stock soaring from $1.11 to $3.72. The penny stock retreated to about $2.75 later in the day.
That made it one of the hot penny stocks today. And it was a sharp reversal of fortune for the company…
Hot Penny Stocks Today: Why Giga-Tronics Needed a Lift
Giga-tronics stock had been down 22% on the year and was trading below $1 in mid-October. Over the past 12 months, this penny stock had been down 33%.
Today's surge in the GIGA stock price is reminiscent of what happened in May when the company announced a $3 million contract to provide a type of microwave filter for F-15 fighter aircraft. GIGA stock soared 62% in one day following that news.
But investors should know that the pop was short-lived. A few weeks later, GIGA was back under $2.00, starting the slide that lasted until October.
Like most penny stocks, Giga-tronics carries a lot of risk despite its promising business prospects.
When Giga-tronics reported its Q2 earnings Nov. 10, the company said it lost $0.20 a share on revenue of $3.06 million. Revenue was lower 40% year over year, demonstrating how dependent Giga-tronics is on maintaining a steady stream of contracts.
Curiously enough, Regazzi mentioned a fresh $1.4 million contract for the Advanced Signal Generator back then, but didn't name the buyer. GIGA stock did not react to the news.
That suggests that today's big jump in the GIGA stock price is mostly due to the association with a big, established name like Lockheed Martin.
Investors considering GIGA need to keep in mind that penny stocks typically are not very liquid, meaning the volume of shares traded every day is fairly low. So it can be hard to exit a stock when things turn against you, which can lead to even bigger losses.
That low volume – and their extremely low prices – also can make penny stocks subject to wild price swings. This is why hot penny stocks are so vulnerable to manipulation by unscrupulous "pump-and-dump" operators.
Still, penny stocks remain popular because of the potential for sudden, huge rewards – as we've just seen today with Giga-tronics. But remember, hot penny stocks like Giga-tronics are just as prone to sudden drops.
Follow me on Twitter @DavidGZeiler or like Money Morning on Facebook.
The Stock Buyback Con Game: Stock buybacks make sense for some companies, but not for all. These days, they're often used to manipulate stock prices – and they've hit record levels lately. What's driving this growth is dangerous for you and our economy…