A South Dakota ghost town probably wasn't on your Cyber Monday shopping list, but you can now own the six-acre town of Swett for $250,000.
According to The Express Tribune, the $250,000 price tag gets you a tavern, a three-bedroom home, and a garage/tire shop.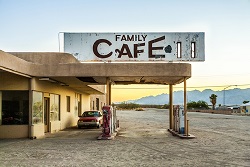 When you consider the fact that the median home price in the United States is $229,000, it's surprising that this South Dakota ghost town hasn't piqued enough interest for a final offer...
Swett was first put up for sale in June 2014 for $399,000 but has since dropped to its current price. Realtor Stacie Montgomery stated that investors from the United States to Russia have shown interest in the property, according to IOL News. She's received several written offers - but a sale has not yet materialized.
There are rumors the town is haunted, but that wouldn't keep this property on the market for over a year and a half.
Here's the real reason investors aren't purchasing this South Dakota ghost town...
This South Dakota Ghost Town Has a Rough History
Disinterest in the property has more to do with the current atmosphere of Swett than former residents haunting the area.
According to Yahoo! Real Estate, Ray Runnels, a patron of Swett's bar, stated that a friend of his told him that Swett looked like "a good place to get killed." This might not be an exaggeration - the bank that owns Swett reportedly replaced the town sign because the old one was filled with bullet holes.
Learning details like this certainly takes away the property's charm, but there's also another big reason Swett hasn't found a buyer....
Montgomery stated that the South Dakota ghost town draws interest from those who "wanted to be their own mayor" and "people who wanted to live off-grid."
But serious buyers quickly find that the state's code requires at least 100 people or 30 registered voters to become a municipality. That handily defeats the point of either goal, and Swett's appeal vanishes.
Jack Delaney is an associate editor for Money Morning. You can follow him on Twitter and follow Money Morning on Facebook.
Up Next: These Failing Companies Will Finally Disappear Next Year...
[mmpazkzone name="end-story-hostage" network="9794" site="307044" id="138536" type="4"]