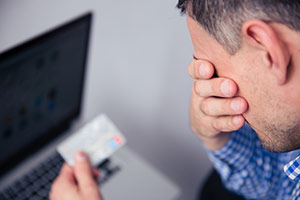 The holidays are here - it's time to go forth and buy goodies for your loved ones.
Last year, e-commerce holiday season sales alone totaled a whopping $79 billion, as 47% of U.S. consumers bought their gifts online.
But with transactions comes the risk of holiday identity theft...
Between Nov. 24 and Dec. 5, 2014, IBM's Digital Analytics Benchmark reported hackers were responsible for more than 10 major data breaches that affected nearly 72,000 records at retailers nationwide.
Amid this peak retail season, arm yourself with these simple tips to keep your identity... your own.
Protect Yourself from Holiday Identity Theft with These Tips
No. 1: Prevent holiday identity theft by changing passwords on all the websites where you regularly shop or bank.
Have you had the same password for the last five years?
It's time to change it up.
Create a password that is long, complicated, and doesn't reference any of your personal information. Consider using uppercase and lowercase letters, numbers, and punctuation. The word you use should not be in the dictionary or a name of a place.
One trendy way to generate a password is to use phrases and swap out letters for numbers and punctuation. You want one as random as possible: 4s R@nD0m @S p0sSiBl3.
No. 2: Prevent holiday identity theft by watching "the point of sale."
Literally, you should keep your eyes on the physical devices used at stores to complete your purchases. "Skimmers" are tools used by scammers to steal your information as you swipe your card at the gas pump, checkout line, or ATM.
A good rule of thumb is to never use a card reader that appears to have been tampered with or looks like it has been simply added on to the other systems.
Also, another important tip for using the ATM...