The Keurig Green Mountain Inc. (Nasdaq: GMCR) stock price surged 75% to $90.17 today (Monday) after the company agreed to be taken private by investor group JAB Holding Co. for $92 a share.
The deal values GMCR at $13.9 billion. The hefty price represents a 77.9% premium over the GMCR stock price on Dec. 4. Keurig's board of directors unanimously approved the deal, and it's expected to close in Q1 2016.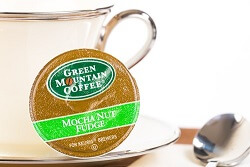 GMCR's largest single shareholder, Coca-Cola Co. (NYSE: KO), will receive $2.4 billion in cash for its 17% stake. Coke appears supportive of the deal and looks to continue its business relationship with GMCR.
The GMCR transaction is the latest in a string of coffee deals by JAB Holding Co. as it competes with Nestle SA (OTCMKTS ADR: NSRGY). Nestle currently operates the world's biggest coffee business.
The acquisition positions JAB as the leader in the $6.1 billion North American single-serve coffee market. Keurig leads in the region with a 61% market share. Nestles maintains only a small presence in the space.
The North American single-serve coffee market accounts for about 40% of the $15 billion global market, according to Euromonitor.
While Keurig has a commanding market share, sales of its single-serve coffee pods and brewers have dwindled among intense competition. And that caused the GMCR stock price to drop more than 61% in 2015, prior to today's gain.
Making matters worse, GMCR's latest countertop device has received a lukewarm reception at best.
Early reviews of Keurig Kold, a cold-drink brewer developed in collaboration with Coke, deemed the device too big, too loud, and saddled with too many quirks. For example, it takes over two hours from when you plug the Keurig Kold in for it to get appropriately cold.
But despite the 2015 troubles, the GMCR stock price posted its largest gain ever today. That left many investors wondering whether they should buy into GMCR stock before it goes private…