The Netflix stock price hit a record high of $133.27 on heavy volume Monday, and the stock has now climbed more than 160% in 2015.
However, shares pulled back slightly this morning (Tuesday) after the company said its plans to expand internationally have been difficult because of the "politics" surrounding how media content is licensed internationally.
Networks and studios have traditionally sold rights to programming on a regional basis. Netflix Inc. (Nasdaq: NFLX) is trying to acquire rights on a global basis.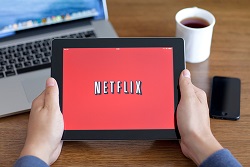 "We're embarking on something that's fairly new in terms of – in the media space – global licensing and programming," Chief Content Officer Ted Sarandos said at the UBS Global Media and Communications Conference in New York. "And now we are a global buyer, buying global rights for shows and movies. And there's some resistance to it, but mostly from the regional sellers and people who are in charge of regional selling, who don't want their job marginalized."
Despite the complications, Sarandos said Netflix was enjoying success tapping tougher markets like Japan. Netflix is now available in more than 80 countries. It plans to have a footprint in 200 by the end of next year.
The company also has plans for more original content, including new shows and feature films for 2016. The fresh lineup includes 31 scripted series, up from 16 this year. Subscribers can also expect new kids series.
What Netflix is chasing right now is a vast global reach. And original content is instrumental in Netflix achieving that goal.
In less than three years, Netflix has become a key player in original programming. It all started with Netflix's political thriller "House of Cards." In 2013, Netflix was nominated for 14 Emmys. In 2015, Netflix received 34 nominations, nearly tying Twenty-First Century Fox Inc. (Nasdaq: FOX).
While this programming has helped the Netflix stock price climb, it has also pushed the company's market value over $53 billion.
Original programming also makes it easier for Netflix to spread to a true worldwide audience.
"Netflix is seeking to become the preeminent provider of content globally," Money Morning Defense & Tech Specialist Michael A. Robinson said in October. "Right now, they are going through an Amazon.com Inc. (Nasdaq: AMZN) style growth period. It's the Bezos model – build, build, build – then the profits will follow."
After a small pullback today, the Netflix stock price was back up 1% in afternoon trading.
Here's how we recommend investing in NFLX with the Netflix stock price touching 52-week highs…