Twitter Stock Price Prediction 2016: The Twitter stock price reached record lows in 2015, and the bearish sentiment will continue into 2016…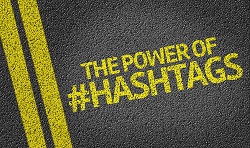 The Twitter stock price is down 32% for the year, and it closed yesterday (Tuesday) at $24.99. That's 4.04% below its IPO price of $26 from November 2013.
You see, Twitter stock is down in 2015 for three reasons:
Disappointing growth in monthly active users (MAUs)
Failure to make the service easier to use
And Dorsey hasn't had the easiest transition to his full-time duties…
The new CEO fired roughly 9% of his workforce in October, and the move had serious critics. Rev. Jesse Jackson sent a letter to Dorsey, expressing concerns that the layoffs disproportionately affected Hispanics and African Americans.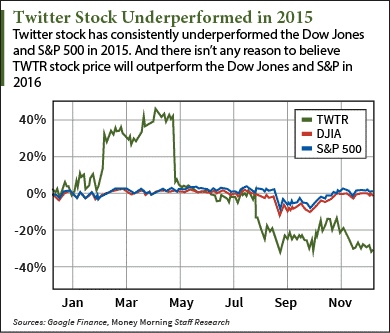 Aside from workplace diversity issues, Dorsey's initiatives to make the services easier aren't resonating with the public.
For Twitter's new "Moments" feature, a 30-second ad was showcased during Game 1 of the 2015 World Series. But the ad didn't connect with users. In fact, notable Apple blogger John Gruber tweeted that someone should be fired for producing it.
Another miscue by the company was the decision to change the "Favorite" button into a "Like" heart symbol. Colorblind Twitter users can't tell the difference between the heart-shaped "Like" symbol and the green "Retweet" symbol.
In his short time as CEO, Dorsey has yet to offer positive news for TWTR shareholders. Dorsey has yet to prove he can significantly and sustainably increase revenue – a problem he had when he lost his role as CEO in 2008.
But all of these issues are negligible compared to a fundamental flaw with Twitter. And this flaw is the biggest reason why our Twitter stock price prediction for 2016 shows more losses for TWTR shareholders…